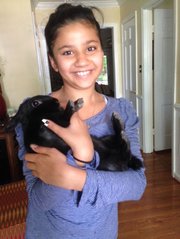 When it comes to fluffy, friendly, and obedient pets that would be perfect for children, there is nothing better than a bunny rabbit. In early November of 2013, Anisa Ardeishar, a rising sixth grader at Spring Hill Elementary, decided that a bunny would be the perfect pet for her. And now, eight months later, Ardeishar knows she made the right decision.
Ardeishar got her bunny, named Shadow (an all-black Netherland Dwarf bunny), from a breeder on Nov. 5, 2013. She thought Shadow stood out because of his color, saying, "He was the last one left. I guess no one wanted him because he's all-black, and the others were white and colorful, but I still think he's really cute."
Although a rabbit is a somewhat uncommon pet among children, Ardeishar believes that bunnies are great, and not only for their color. "They form an attachment to their owner, so it follows me around everywhere," she explains. "He can do some tricks, too. He can follow your finger in the air."
When most children ask their parents for a pet, a dog or cat is usually the first thing that pops into their mind. However, for Anisa Ardeishar, a bunny was her first choice, and her parents were on board with the decision she made.