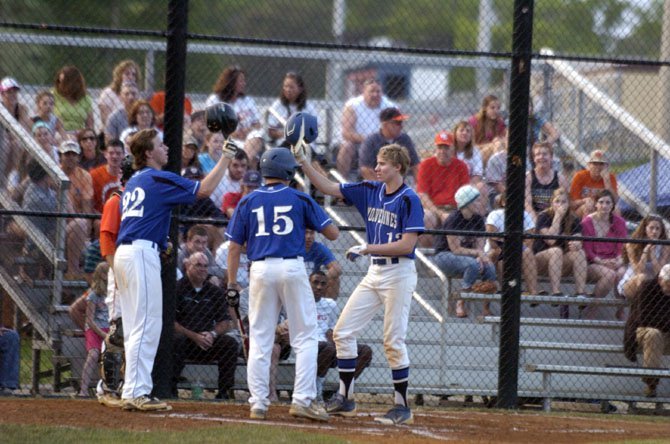 West Potomac's Jamie Sara found his power stroke late in his sophomore season, hitting five of his six home runs near the end of the 2014 campaign. Three of his homers came in a single game against South County.
Sara played multiple positions for the Wolverines, earning first-team all-conference honors. He helped West Potomac finish conference runner-up and reach the region quarterfinals, where the Wolverines lost in extra innings against Madison.
With two seasons remaining in his high school career, Sara, who also plays basketball at West Potomac, appears to have a bright future. Sara recently participated in a Q&A with The Gazette.
*Gazette: Judging by your Twitter feed, it looks like you've been playing summer baseball. Who do you play for?
Sara: I play baseball with the Stars program. It's a great program and I've been with them for a good amount of time.
*Gazette: What did your late-season power surge, specifically your three-home run game against South County, do for your confidence?
Sara: It brought up my confidence tremendously. I just was way more comfortable hitting and earned respect through the other teams in the conference.
*Gazette: What traits, physical or mental, are required to be a successful power hitter?
Sara: Confidence in yourself. Most of it is mental, knowing what pitch you're going to get and what the situation is. The physical part will just follow if you have practiced and put in hard work in and out of the season.
*Gazette: How many positions did you play for West Potomac last year?
Sara: Pitcher, third base, and a little bit of shortstop. Working on outfield, though, for next season, too.
*Gazette: What do you consider to be your primary position?
Sara: Pitcher. I feel like it's where I feel the best and also have most control of the game.
*Gazette: At what age did you start playing baseball? Do you have interest in playing college baseball?
Sara: I started when I was about 5 through T-ball, Fort Hunt Little League alumni. I'm very interested in playing baseball in college. I'm getting looks from some really good schools. College baseball will be in my future.
*Gazette: How would you describe the way you felt after the team's extra-inning loss to Madison at regionals?
Sara: I felt demoralized. It was probably the most intense game I'll play in my high school career and it was unfortunate the end result wasn't in our favor, but I was proud of how my team performed and thought we gave it our all. Sad to see all of the seniors leave. I've been playing with them forever.
*Gazette: Who is your favorite music artist? Why? Sara: Either Riff Raff or ASAP Rocky. They both are funny characters and can pump you up before games.
*Gazette: What is your favorite movie?
Sara: 'The Sandlot,' no doubt.
*Gazette: What is your favorite food?
Sara: Pasta and Chicken.
*Gazette: Do you enjoy video games? If so, which is your favorite?
Sara: Not really a video game guy, but when I play, I usually play 2K14 or Super Smash Bros.
*Gazette: What is your favorite hobby outside of baseball?
Sara: Favorite hobby outside of baseball is basketball and fishing. I do a lot of fishing.
*Gazette: What location is the farthest you have traveled from the Washington, D.C. metro area?
Sara: Hawaii. Fun trip.
*Gazette: Are you a pro sports fan? If so, who are your favorite teams?
Sara: Love the Nationals and Wizards. Have to stay local.