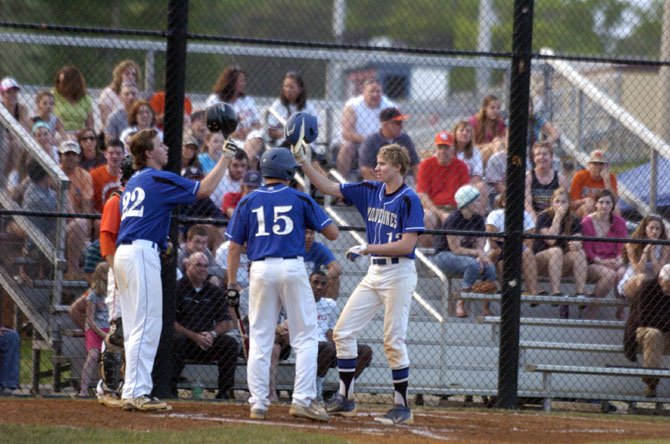 Earlier in the 2014 season, West Potomac sophomore Jamie Sara was a part-time player with a propensity for striking out.
When the Wolverines hosted Annandale on May 8, Sara played in the field, but head coach Jim Sullivan replaced Sara in the lineup with a designated hitter. The following evening, Sara had what he described as a "terrible" batting-practice session prior to West Potomac's game against South County. Sara would bat in the No. 8 spot in the order against the Stallions, a spot not usually occupied by hitters with prodigious power.
"I took a terrible BP round," Sara said of his pregame performance on May 9, "but after that, I was looking for fastballs, squaring them up."
Whatever adjustments Sara made during the game proved successful as the 6-foot-3, 180-pounder smacked three home runs during a 6-0 victory against the defending Patriot District champions.
"South County didn't even know who he was," Sullivan said. "They said, 'Who is he and why is he hitting No. 8?'"
"We're just hoping that he'll continue to not overthink it — to not think that he's now a home run hitter and just let it happen."

—West Potomac baseball coach Jim Sullivan about sophomore Jamie Sara
On May 13, West Potomac traveled to face first-place West Springfield for the Wolverines' regular-season Conference 7 finale. In the top of the first inning, Sara, battling cleanup for West Potomac, jumped on the first pitch he saw from Spartans left-hander Tim Yonkers and blasted a two-run bomb toward the parking lot past the fence in left field at Tugwell Yards. It was the third baseman's fifth home run of the season.
Did Sara know it was gone?
"I had a good feeling," he said. "I sat on a first-pitch fastball. It was a nice shot."
What's up with No. 13's recent power surge? Sullivan said he thinks Sara is swinging with more control.
"Even though it looks like he's swinging as hard as he can, I don't really think he's swinging as hard as he was," Sullivan said. "He was striking out four out of every 10 at-bats. … We just figured if he'll just focus, he's a tremendous athlete, strong as a bull and he's going to keep getting bigger. We're just hoping that he'll continue to not overthink it — to not think that he's now a home run hitter and just let it happen."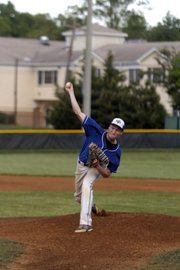 Sara's powerful bat is a welcomed addition for a West Potomac baseball team that entered Tuesday's contest with West Springfield as the No. 2 seed in Conference 7. The Spartans built a 6-3 lead before play was suspended due to lightning in the fourth inning. The teams were scheduled to finish the game on Wednesday. West Springfield would secure the No. 1 seed with a win over West Potomac or a win over Woodson on Friday during the Spartans' regular-season finale.
West Potomac entered Tuesday's game with a 12-6 record, including 8-3 against conference opponents. The Wolverines had won six of their last seven games.
"They don't seem to get too disturbed by being behind," Sullivan said. "They are a pretty calm, collected bunch. I think we were behind five of our first six games and won four of them. … They don't tend to panic, which I think is the big thing. They know they are good ball players, they know they can make the plays and they know they can hit the ball, so if they can keep that confidence up, [they will be in good shape]."
One of the primary reasons for West Potomac's success has been the pitching duo of Billy Lescher and Michael Barnes.
"When they're on the mound," Sullivan said, "that helps [their teammates] relax."
Early in the season, Sullivan said the Wolverines had their sights set on a conference title. While it is unlikely West Potomac will catch West Springfield in the regular-season standings, the Wolverines can turn their attention to the Conference 7 tournament, which begins Monday, May 19.
"We still believe that we're as good as anybody for the tournament," Sullivan said, "but we were hoping to win both of them."