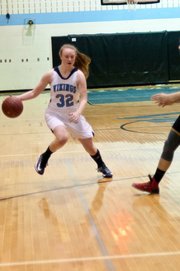 Marie Hatch was one of the 2012-13 Whitman girls' basketball team's best players as a freshman prior to a shoulder injury that forced her to miss a large portion of the season. The following year, Hatch earned all-division honors and led the Vikings in scoring, helping the team win 20 consecutive games.
Now a rising junior, Hatch feels much improved mentally and physically as she chases her dream of playing college basketball. She recently participated in a Q&A via email with The Almanac.
*Almanac: What kind of basketball-related activities have you done this summer?
Hatch: I have been doing a lot of training for basketball, like strength and agility and summer league, as well as AAU.
*Almanac: Do you have any interest in playing college basketball?
Hatch: I would really love to play college basketball and am currently pursuing that dream.
*Almanac: You're entering your junior year. How do you feel now as a basketball player compared to when you were a freshman?
Hatch: I feel infinitely better now than as a freshman. Physically, I am much stronger, faster, and quicker thanks to intense offseason training. I have a lot more confidence and am more mentally sharp/can deal with challenges or setbacks better.
*Almanac: You suffered a shoulder injury during your freshman year that caused you to miss much of the season. How did that injury, and the work it took to return, affect you as a basketball player?
Hatch: If anything, the shoulder injury led to me being more resilient. Not being able to play for so long reminded me just how much I love the game.
*Almanac: At what age did you start playing basketball?
Hatch: I started playing basketball at the age of 5.
*Almanac: Whitman won 20 games in a row last season before losing to Kennedy in the sectional final. How would you describe the way you felt after the Kennedy loss?
Hatch: Well, obviously, I felt very disappointed because we had beaten Kennedy in the regular season and knew we were capable of doing so again. There was also frustration that I had let my team down with a less-than-stellar performance.
*Almanac: Who is your favorite music artist? Why?
Hatch: I really like Bob Marley because his songs have nice soothing beats and they just put me in a good mood.
*Almanac: What is your favorite food?
Hatch: My favorite food would probably be gnocchi with red sauce and a little cheese.
*Almanac: What is your favorite hobby outside of basketball?
Hatch: I like cooking and hiking in addition to basketball.
*Almanac: What location is the farthest you have traveled from the Washington, D.C. metro area?
Hatch: My family sometimes goes to St. John in the U.S. Virgin Islands and I have gone to California.
*Almanac: Are you a pro sports fan? If so, who are your favorite teams?
Hatch: I am kind of a pro sports fan, but college basketball and football are better, in my opinion. My favorite pro basketball team is the OKC Thunder, especially Kevin Durant. I also like the Chicago Bulls.