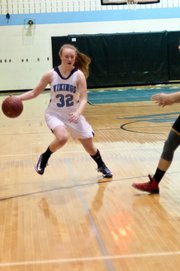 Quince Orchard, a team with a 1-12 record, was within striking distance in the third quarter when a pair of Whitman youngsters decided to put the game away.
First, it was sophomore guard Marie Hatch scoring three consecutive buckets for the Vikings. Later in the period, freshman guard Abby Meyers knocked down a 3-pointer from the corner.
Hatch scored and was fouled early in the fourth quarter. She converted the three-point play to give Whitman a 14-point advantage. Meyers scored less than 30 seconds later and Hatch followed with a 3-pointer, giving the Vikings a commanding lead.
The Whitman girls' basketball team defeated Quince Orchard 60-32 on Jan. 23. Hatch finished with 15 points and Meyers added 14, accounting for nearly half of Whitman's points. The Vikings also defeated Poolesville 51-40 on Jan. 28, extending their winning streak to 12 games while improving their record to 13-2, with their only losses coming against private schools Good Counsel and Bishop McNamara.
Whitman beat Gaithersburg for the 4A West region championship last season before losing by one point to Baltimore Polytechnic in the state semifinals. The Vikings have five seniors and three juniors on their roster. Lately, however, a sophomore who missed significant time last season with a shoulder injury and a lanky freshman who is all knees and elbows running down the court have powered Whitman's offense.
Hatch's talent was evident last season, but she missed two-thirds of her freshman campaign with an injury to her left, non-shooting shoulder. When she was on the court, Hatch held back, deferring to her elder teammates. She re-injured her left shoulder during the spring and was forced to sit out after undergoing surgery.
"For [Hatch]," Whitman head coach Pete Kenah said, "… we had to ask her to do more on offense because she would defer."
This season, Hatch has been more aggressive with the ball in her hands. While her perimeter shot isn't where it was a year ago, the 5-foot-10 Hatch is attacking the basket and said she's improved with her left hand due to physical therapy.
"With [Abby Meyers], it proves [being] aggressive is just a lot better. As time went on, I've just gotten more aggressive and realized it's just overall better for the team."

— Whitman sophomore Marie Hatch
"I think being a freshman, I didn't want to overstep my boundaries or anything," Hatch said. "I felt like I should just stay back."
Meyers has taken a different approach. The 5-foot-9 freshman drives to the rim in an aggressive manor and doesn't shy away from contact on the floor.
"With her, it proves [being] aggressive is just a lot better," Hatch said. "As time went on, I've just gotten more aggressive and realized it's just overall better for the team."
Meyers scored six second-quarter points against Quince Orchard while driving to the rim.
"That has nothing to do with coaching," Kenah said. "She absolutely always had that. … Abby's fearless. She's a warrior and she really gets after it."
Meyers said a competitive family environment helped mold her mentality on the court.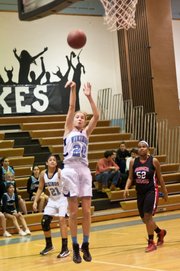 "When I was young, I loved fighting with my sisters," Meyers said. "I was very aggressive. I was called 'Muscles' in my family. … It's always fighting in our house over specific things. I guess [that's where] I get that aggressiveness."
Through 14 games, Hatch is averaging 10.5 points per contest. Meyers is averaging 6.6, but scored in double figures in three of Whitman's last four games, including a 15-point effort against Blair on Jan. 10. While each player is talented, Kenah said the attitude of the older Vikings helps create a successful environment.
"It says a lot about the upperclassmen that they're willing to defer," Kenah said. "It's OK not getting the spotlight. There's nights were it's not Marie and Abby's night and they're really happy for the upperclassmen. We put a lot of time and effort into team chemistry and I think it says a lot that they can be OK. I think those two combined for 29 [against Quince Orchard]. People were sharing the ball and they wanted them to do well."
Whitman faced Poolesville on Tuesday, after The Almanac's deadline. The Vikings will host Churchill at 7 p.m. on Tuesday, Feb. 4. If Whitman is going to return to the state tournament, Hatch and Meyers will likely have significant roles in the Vikings' journey. While they're light on varsity experience, don't expect either to play — or answer a reporter's questions — like youngsters.
"We're definitely hoping for states, but right now we have a lot to work on," Hatch said. "We've won a lot of games but we still have a lot to improve on. Some of the games … we should have played better and we just managed to get away with a win, so we need to go back and keep practicing hard."
More like this story