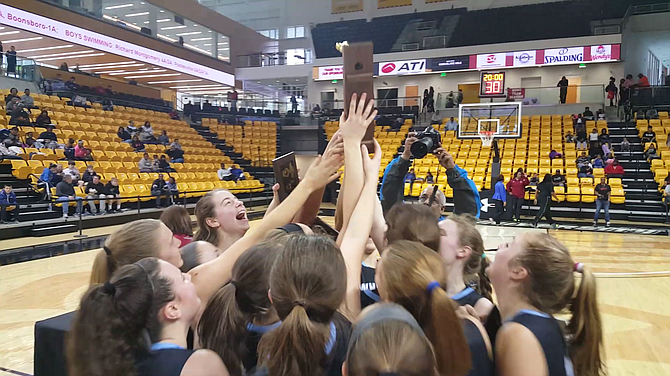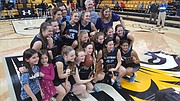 Whitman's Sophia Tompkins walked up to Abby Meyers with 1:21 remaining in the fourth quarter and tapped the standout guard on the shoulder. Meyers turned around, hugged Tompkins and headed to bench to join her teammates.
In most cases, head coach Pete Kenah would want Meyers on the court. However, with the Vikings comfortably ahead and less than 90 seconds from securing the program's first state championship since 1995, Kenah's late-game substitution was about recognition and making a memory rather than providing a breather.
The Whitman girls' basketball team defeated Western 71-55 in the Maryland 4A state championship game on March 12 at Towson University's SECU Arena. After losing in the state semifinals two of the previous three seasons, the Vikings thumped North Point 64-37 in the semifinals on March 10 and led by as many as 24 points in the second half against Western.
In the game's final minutes, Kenah pulled his standout players — Meyers, Hannah Niles, Betsy Knox — from the game to be recognized by Whitman fans. Senior guard Marie Hatch created her own exit when she fouled out with 2:25 remaining.
"It's what you live for as a coach," Kenah said. "... It's always a dream as a coach [that] you get to hug your best players and win the state title, so it was really like a dream come true and a special moment that I'm always going to remember."
Saturday's victory put the finishing touch on a championship quest the Vikings had come close to fulfilling in recent years.
In 2013, Whitman won the 4A West region championship but lost to Baltimore Polytechnic, 33-32, in the state semifinals. Hatch was a freshman on that team, but missed much of the season due to a shoulder injury.
In 2014, sophomores Hatch, Niles and Knox, and freshman Meyers helped the Vikings win 20 consecutive games before losing to Kennedy in the region semifinals.
In 2015, Whitman defeated Wootton in the region championship game, but lost Hatch to a broken ankle. The Vikings would lose to Eleanor Roosevelt, 48-30, in the state semifinals.
This year, with Hatch, Niles and Knox entering their senior seasons and Meyers a junior, the Vikings had pictures of Towson as their cell phone screen savers for a reminder of what they were working toward.
"They played together in middle school, except for Hannah, and they've known each other for so long," Kenah said. "... I just love them so much and it's how, I really think, public school basketball should be — they live in a five-mile radius and there's no transfers or anything like that. They're just kids and they all love each other."
Whitman came out hot against Western in the championship game. With 4.8 seconds remaining in the opening quarter, the Vikings passed the ball along the right sideline until it ended up in Meyers' hands, and the junior beat the buzzer with a 3-pointer, giving Whitman a 23-9 lead.
After a made free throw by Western, Whitman junior Olivia Meyers inbounded the ball to Niles in front of the Whitman bench. Niles quickly passed to Hatch near midcourt and Hatch found Abby Meyers for the 3-pointer.
"You've got to give credit to Kenah: that's one of his great plays that no one seems to pick up on or scout us on, so we took advantage of that," Abby Meyers said. "... I had the open shot, I was feeling it in the beginning, so I [shot it] and it went in."
The Vikings cooled down, however, and managed just one field goal during the next 10 minutes. Whitman's lead shrank to 29-23 early in the third quarter, but the Vikings regrouped and pulled away.
"Sometimes the worst thing you can do is make your first couple of 3s," Kenah said. "I think we started 3­for­4 and then at halftime we were [5-for-14]. Western really forces you into that, so we just tried to make a concerted effort to penetrate. The guards were fearless and they made so many plays. [We were] just a little more aggressive in the second half [and] I thought [that] was the big difference."
Abby Meyers led Whitman with 21 points, including four 3-pointers. Niles scored 18 points and grabbed six rebounds.
Niles said Whitman's past state tournament experience helped the Vikings this year.
"It helped a tremendous amount," she said. "We had so much confidence going into this game and we weren't satisfied with Thursday's [semifinal] win. We came into it knowing we could beat Western. Yes, great team, so much respect to them, but we knew it when we stepped on the court for the tip."
Hatch, who has battled injuries throughout her career, finished with seven points and seven rebounds.
"It's really sweet," she said. "Not being able to play last year, missing out, not being able to help my team, that was really hard. I was just glad I was on the court this year. Whatever I could contribute, I wanted to do."
Knox totaled eight points and 10 rebounds. Olivia Meyers scored 11 points and grabbed four rebounds.
Whitman finished the season with a 24-3 record.
"We've all been dreaming about this moment, honestly, since we came to Whitman," Knox said. "We thought about it since we were freshmen and even before. We always knew that there was talent in this program and if we worked hard we could capitalize on it."