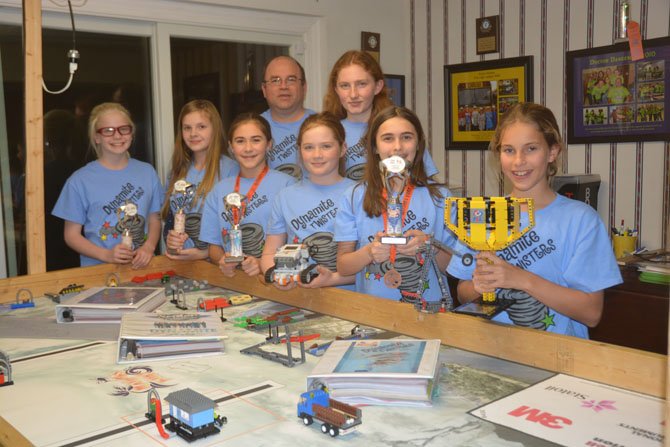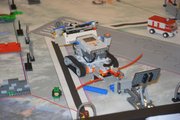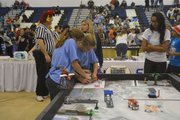 Alexandria — An all-girl middle school robotics team from Alexandria is participating in the International Lego League Competition in Toronto, Canada from June 4-7. The team, known as the Dynamite Twisters, are competing against 71 other FIRST Lego League teams from around the world. The team is one of only a few all-girl FLL teams.
The Dynamite Twisters consists of six girls from the City of Alexandria: Abigail (Abbie) Henshaw, Nicole (Nikki) Bires, Claire Fergusson and Jessica Lopez, (all sixth graders at St. Stephen's & St. Agnes School), Sofie Drexler (sixth grader at Burgundy Farm Country Day School) and Leslie Lytle (seventh grader at George Washington Middle School).
The Dynamite Twisters' high mission score of 429 helped them achieve the first place champions award at the VA/DC FLL state tournament in December 2013, and qualified them to attend the international competition. The girls have been making improvements to their Lego Mindstorms robot mission since December to try and push their best score even higher.
The team is coached by Abbie's dad, Bob Henshaw, and her older sister, Katie Henshaw (a 10th grader at St. Stephen's & St. Agnes School). Henshaw has been coaching his children's FIRST Lego League teams for 7 years, and during Lego League season, the Henshaw basement is taken over by a large Lego table and filled with the sounds of the girls working on their robot mission.
The Dynamite Twisters began working on this year's problem in August. They met bi-weekly to build, program, and fine-tune their robot, and to conduct and present their research. The theme of this year's competition is Nature's Fury, and the robot's mission involves rescuing Lego people, pets, and property from natural disasters. Sophie Dexler's favorite part of the robot mission is when the robot's axle flicks a tree's trunk to remove a dangerous branch and prevent it from falling and causing harm.
The Dynamite Twisters developed an app that they call "Treesurance," which is available on the google play store. The Treesurance app aids homeowners in assessing the risk of a tree falling in a storm. Team member Claire Fergusson was especially motivated to work on the app because a tree fell on her house during the Derecho storm that hit Alexandria in 2012.
To create their app, the team collaborated with Alexandria city arborist John Noelle and obtained a sponsor, the Care of Trees. To prepare for their competitions, the girls have presented their research to the Environmental Protection Agency, National Park Service Park Rangers at Great Falls National Park, the Alexandria City Public Schools School Board, the Seminary Ridge Civic Association, Winkler Botanical Preserve, and to teachers at their schools.
The team has a Facebook page. To follow their progress see https://www.facebook.com/pages/The-Dynamite-Twisters/1490735901139526