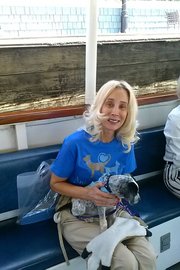 It all started about 35 years ago with a newspaper ad from a British doctor seeking a volunteer driver for a new concept in America — something called a "hospice." Then-Arlington resident Kathy Reiter didn't know the term but wound up taking the job — and eventually facilitating support groups for grieving widows and widowers.
But the project took an unexpected turn. "People started coming up to me after the group meetings and confessing that they actually were there because their companion animal had died and they didn't know how to cope," Reiter recalled. "I realized that someone needed to start a support group especially for loss of pets."
At the time, Reiter had a much-loved 10-year-old cat named Prince who had just been given a few months to live by a veterinarian. "I made a bargain with the universe that if I could get a support group started, the tradeoff would be my cat not dying," she said.
Reiter went on a mission, appealing for sponsorship from numerous organizations. Many people thought the idea sounded crazy. Finally, the Fairfax Animal Shelter agreed to set up a pilot program at a local library. In the first six months, more than 1,000 grieving pet owners had made their way to the meetings, traveling from as far away as West Virginia and Pennsylvania.
Some 30 years later, Reiter is still leading monthly support groups as a volunteer, at both the Animal Welfare League of Alexandria and the Fairfax County Animal Shelter. Trained as a psychiatric social worker with a specialty in grief and bereavement, Reiter believes her true education has been simply listening to more than 75,000 people share their stories of loss of a pet, whether it's a cat or dog, parrot or ferret, rabbit or snake. "Grief is as individual as a fingerprint," she said.
About half of those who gather in Alexandria or Fairfax have recently lost a pet, Reiter says; the other half are preparing to say good-bye to one whose end is near. People take part on a confidential basis — no one need give a name. Reiter says participants have included a father who steals away from his family to shed tears over a beloved cat. Or a police officer who's lost a longtime K-9 companion. Or a soldier whose faithful combat dog made the ultimate sacrifice. A few months ago, six people in the Alexandria group all had experienced the sudden death of their pets; Reiter says they took great solace in talking to each other. "Most people find great help simply spending time with others who can validate that it is legitimate to grieve the loss of your companion animal," she said.
Looking back, Reiter feels the "universe" took her up on the bargain: Reiter's ailing cat Prince lived to be 23.
Note: Kathy Reiter's support groups are held at 7:30 p.m. the first Wednesday of each month at the Animal Welfare League of Alexandria and the third Wednesday of the month at the Fairfax County Animal Shelter. For details, go to www.alexandriaanimals.org or http://www.fairfaxcounty.gov/animalshelter/ or contact Reiter at 703-280-2244.