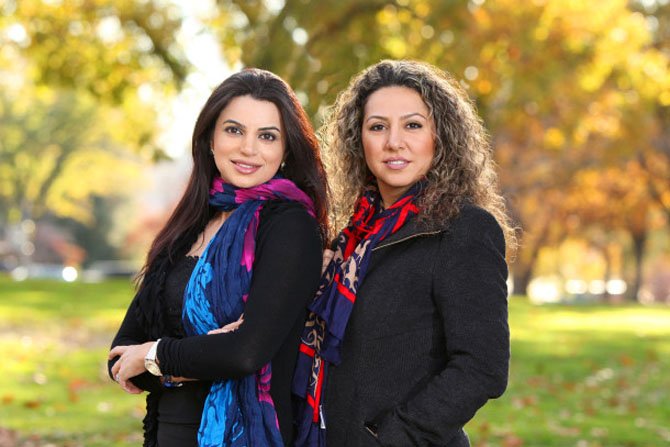 "Photography is our passion. We don't call it a job — it's art."
This is the philosophy of both Parmiss Akbari and Naz Refaat — owners of Focus Fine Photography Studio which recently opened in Potomac Village.
"When choosing a photographer for a special occasion, you want to be certain that the photographer is innovative, creative and passionate about their work — and dedicated to telling the story in the best possible way. This is why we love our work. Even if we are working 14 hours a day, we love it because we are enthusiastic and thrilled to be photographing lifetime memories," said Refaat.
Focus Fine Photography is a professional social events photography company, specializing in wedding and engagement photography, and Bar/Bat Mitzvahs. The two photographers combine posed photography with a natural photojournalistic style and fine art to keep photos as expressive as possible.
"We have been perfecting our techniques and artistic vision, photographing hundreds of weddings and other social events. We have a strong passion and unique eye for artistic imagery," said Akbari.
Refaat and Akbari met through a mutual friend — and the day after their introduction, they decided to launch their own photography business. They found they had much in common; both had graduated from college with degrees in photography and art, each had experience working with other local photographers and they had similar philosophies and artistic abilities. They opened their first studio in Rockville — and now have moved to Potomac in a home located just steps from Potomac Village at 10020 Falls Road. They are sharing the space with Exclusively Entertainment also new to Potomac. The two businesses complement one another — when planning an event, one can book the music, lighting, event planning and more at Exclusively Entertainment — and then conveniently step downstairs to Focus Fine Photography to book their photographer too.
The two are headed off to Mexico soon to shoot a destination wedding.
"We do hundreds of weddings each year," said Akbari. "Sometimes we have to study the customs of different cultures so that we know exactly how it should be shot. We also combine psychology with photography. We want the bride to be calm and to get the best out of her day — and we want all the other guests to feel special too."
They are also kept busy with corporate events.
"When we do professional head shots for a corporation, we approach each one differently. We go to the corporation and make certain that their company space is attractively featured in the photos. We love to shoot outside and bring nature into the photos. We have worked with banks, construction companies, dentists, hotels, wineries and many more firms," said Refaat.
Family photography is another one of their specialties. They love to connect with the children and make the photo session fun for everyone.
"Most of the time, we like to be outdoors where everyone feels comfortable," said Refaat. "It's a special time to gather the entire family together to capture a once-in-a-lifetime memory."
Check out Focus Fine Photography at www.focusfinephotography.com or call Parmiss Akbari at 301-938-8330 or Naz Refaat at 301-370-1866 to make an appointment.