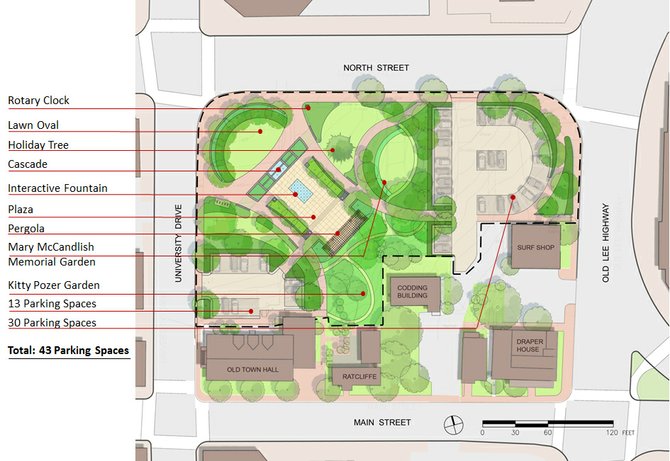 The Fairfax City Council has green-lighted the long-anticipated, Old Town Square project and awarded a $4 million contract to F.H. Paschen Techtonics Corp. to make it a reality. But for awhile, it was touch-and-go.
In fact – concerned about the cost and whether two water features were necessary – the members initially voted no. But after taking a break, holding a work session and getting further information from City staff, they approved it unanimously.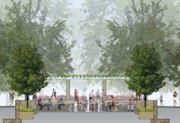 "This'll be a landmark because of what it'll do for our downtown," said Councilman Dan Drummond. "It'll help the businesses, bring foot traffic, give us a gathering place and really put us on the map."
THE PROJECT INCLUDES two parking lots with permeable, brick-paver parking; ADA-compliant, brick, pedestrian walkways; a two-tiered plaza; storage sheds with a connecting pergola; an interactive water feature and a cascade water feature; a memorial garden area; preservation and enhancement of the existing Kitty-Pozer Garden; landscaping; lighting; and utility-infrastructure improvements.
In addition, a 90-foot, pedestrian safety barrier will be built along the north face of the Auld Shebeen restaurant where the sidewalk grade is lower than the adjacent North Street travel lanes. And the gravel Amoco parking lot at Main/East streets will be paved for better public parking. The pedestrian barrier costs about $230,000, and the parking-lot resurfacing, about $65,000. The remaining $3.7 million is for the park.
At the May 13 City Council meeting, Drummond noted how much community involvement by various groups and committees went into this project. "I look forward to the groundbreaking and the community going there," he said.
"I've been concerned with the escalating costs," said Councilman Michael DeMarco. "But I believe it'll be an economic benefit to the City and help draw people to it. And the additional hardscape of the water feature, when not in use, will also be a place where we can hold events."
However, Councilwoman Ellie Schmidt said she was "a little surprised at the amount of money we're spending on this. I'm in favor of the park, but do we need two water amenities?"
"It'll bring a diverse group of people downtown, so I support it," said Councilman Steven Stombres. "We need to work with the downtown community to address the significant need for parking, but I think this park will be an incredible asset to the community."
Councilman David Meyer said he, too, favored the project and noted the public hearings and meetings the City had held on it. Calling the downtown area a "work in progress," he said it needs "multiple draws" to make it a success and this project is just one of them. And, he added, "I don't believe the interactive water feature is appropriate for this site."
Mayor Scott Silverthorne agreed with him about that water feature. However, he said, "Five City Councils have endorsed this project [and], on balance, I think this is good for downtown and the City."
But when they voted, it was a 3-3 tie – Schmidt, Meyer and DeMarco voted no – and Silverthorne also voted no and placed the item on an upcoming agenda. Yet it didn't end there; instead, the members took a brief break, reconvened into a work session and, with Silverthorne saying, "It seems to me, there's room for compromise," tackled it again.
Councilman Jeff Greenfield asked Director of Public Works David Summers the financial impact of a change order to remove one water feature, how it would affect the construction schedule and if the project would have to be re-bid if they changed it.
"Both water features have a fairly complicated infrastructure – drain pipes, water supply, valves, electrical, etc.," said Summers. "So we'd have to provide the contractor with information on what would be taken out of the drawings." Then, he said, the City would have to pay to have the drawings revised and the contractor would have to revise his bid accordingly – possibly delaying the project six weeks.
Summers also figured the City's savings would be about 15 percent of the project cost. "That's a material-enough change that you might need to re-bid the entire project," added City Attorney Brian Lubkeman.
"So the savings we could potentially realize by removing these features we could actually lose by the process of rebidding this," said Greenfield. Summers said that's right and also noted that "the City would no longer be able to hold the contractor to the original completion date" if changes were made.
"We've been at this for a very long time and the project today is a compromise," said Greenfield. He said the same number of parking spaces there now would remain and a downtown destination would be created, plus "some synergy between the library and downtown. And we have the ability to turn off [the water feature], put chairs and tables over top of it and still utilize that space."
Stombres said this project might not be perfect, but the community didn't expect the City to reject it. And if that happened, he said, it would discourage investment in Fairfax. So he encouraged his colleagues to reconsider their votes.
"There are parts of this project that each of us don't like," said Stombres. "But I feel that, if we don't go forward with it, we're making a pretty significant mistake."
Agreeing, Drummond said changing the design would cost another $80,000, and "I think the community would be disappointed in us. There's a sacred bond we have with the community; when we say we're going to do something, we do it. This is an investment in the City, in our community and in our economy."
WHEN THE COUNCIL RECONVENED into a regular meeting, DeMarco, Schmidt and Meyer said they hadn't realized the financial and time ramifications of changing the project now. They and their colleagues then approved it unanimously.