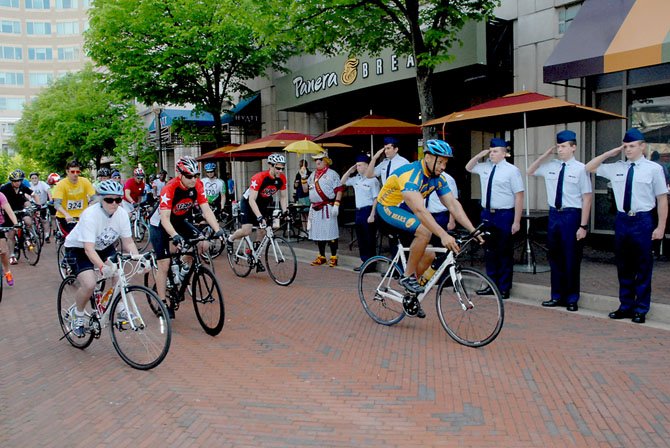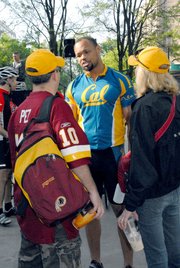 Redskins linebacker Lorenzo Alexander along with teammate Kedric Golson and several other current and former Redskins traded in their shoulder pads and football helmets for biking shorts and biking helmets for the third annual Ride to Provide, a charity bike ride, Saturday April 21.
Approximately 150 riders joined Alexander in the event which raised nearly $10,000 for Alexander's ACES (Accountability, Community, Education and Sport) Foundation, serving youth in Alexander's hometown of Oakland, Calif., and his adopted hometown of Washington, DC, and Ride 2 Recovery, a national-wide program designed to promote mental and physical healing among returned military service members.
To participate, adult riders paid a $50 registration fee. Riders were also able to enter a raffle to ride with a Redskin or media personality. Media personalities on hand included Kelli Johnson of Comcast SportsNet and ESPN's Chris Russell. Howiette, Pork Chop and Boss Hogette of the Hogettes were also on hand. Howiette said the Hogettes participate in 110 charity events per year and were happy to attend this one.
Riders were able to choose from 10, 20, 35 or 53 mile rides. The event began at 9 a.m. on Saturday at Reston Town Center. Riders rode at least part of the ride on the adjacent Washington and Old Dominion Trail. The Bike Lane, a bike shop located at Reston Town Center, provided tech support prior to the event and rented out loaner bikes.
Prior to the event and sporting a blue and gold University of California biking jersey, Alexander looked like just another cyclist getting ready for a ride. He explained that he became involved in cycling a few years ago through the Tour de Cure, a biking charity event which promotes awareness and fundraising for diabetes prevention and cure. Alexander is also a spokesman for the National Kidney Foundation. Diabetes research and prevention, and the work promoted by the National Kidney Foundation are causes that are personally important to Alexander as there is a history of diabetes in his family. Over the past few years, however, Alexander has expanded his interests to working with inner-city children.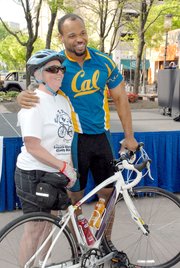 "Me and Kedric really got into cycling a few years ago. We rode in the Tour de Cure a few years ago and saw how beneficial it is. It's really a good event for a good cause. I decided that I wanted to do a similar event for causes that are close to my heart," said Alexander.
Alexander along with his wife started ACES in 2008. The mission of ACES, as stated on its website, is "to support youth through emphasizing self-accountability, taking pride in community, striving for educational excellence while promoting a healthy mind and body through sports."
Alexander admitted just like everyone else, he has difficulty squeezing exercising into his busy schedule. Of course, as a professional football player, the majority of his schedule involves exercising. However, since adding children to his life, he said, he has had trouble making time for indoor cycling or outdoor rides. Alexander and his wife have two young daughters. In addition to his work, family and charity activities, Alexander and Golson own a Pilates studio in Ashburn, Studio MBS.


UPON FIRST ENTERING the staging area, a trio of cyclists from Reston dressed in non-traditional biking attire were the first to catch many eyes. Josie Morrow was dressed as though she were headed for an Oktoberfest party, Aaron Fleet was dressed as a hippie with an Orange Crush t-shirt, and Mason Rothman was wearing a kilt (with biking shorts underneath). The three, plus their Chihuahua, Toby, riding as a passenger in basket attached to Morrow's handlebars, were geared up to do the 20 mile ride.
"We like doing a lot of Reston activities," said Rothman. "Plus, this is for a good cause." Rothman also said the three were former members of the armed services. The fact that the event supported Ride 2 Recovery was especially important to them, he said.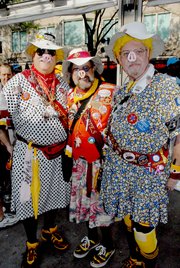 Morrow said she never thought she would live outside Washington, D.C., but she really enjoys living in Reston. Part of her love of living in Reston is participating in events such as the Ride to Provide. "It's a wonderful event," said Morrow.
Dr. Hirad Bagy of United Wellness Center, a chiropractic and physical therapy practice based in Herndon, participated in the event with his 8-year-old son Kian and three other members of the United Wellness team. Bagy is also the Redskin's official team chiropractor.
"We are happy to be part of this event. It looks like a great turn-out," said Bagy.
Kian said he had been training for the event by riding his bike up and down his driveway. Team United Wellness was geared up for the 10-mile ride.
In addition to the costumed riders and the families was a team of riders with matching red, white and blue jerseys riding for Team Ride 2 Recovery. This team was composed of returned service members, veterans and their families. The goal of Ride 2 Recovery is to promote physical and mental rehabilitation for wounded veterans. Most riders on this team Saturday rode conventional bikes, however, there were also a few recumbent bikes and bikes with specially designed handlebars and clips to aid riders who had been wounded in combat.
"Cycling is really beneficial for physical, emotional and mental health," said Team R2R rider Connie Depner of Woodbridge. "It gets you out of your head and onto your bike."