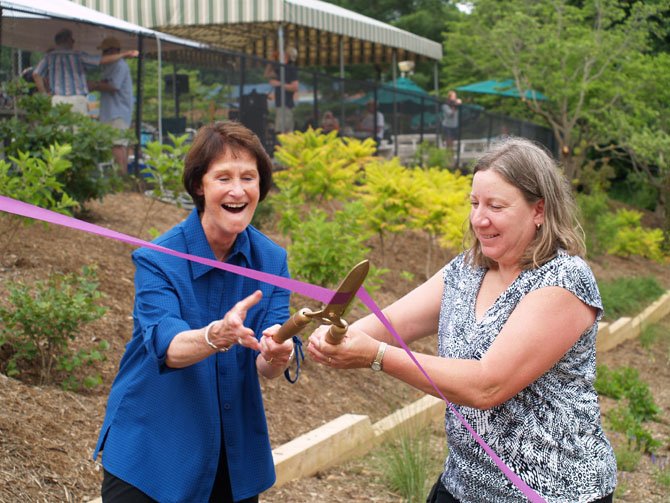 Cheryl McDonald, a resident of the Braddock district for 15 years, has been working daily to ensure the Danbury Forest community near Accotink Creek in Springfield is a safe and pleasant place to live.
This year, her hard work was recognized on a county-wide level when she was nominated by Supervisor John Cook as the 2014 Volunteer Fairfax Community Champion for the Braddock District.
McDonald served as president of the Danbury Forest Community Association for several years, where she enjoyed ensuring that things were taken care of in the community. Because Danbury Forest is a self-managed community, she recognized the importance of keeping people involved in volunteer projects.
"The greatest thing about my position was getting to meet all of the neighbors. We have 326 homes in the community, and I have met a lot of them," she said.
McDonald's biggest project as president of Danbury Forest was basically rezoning the entire community to allow residents to make changes to their homes, such as covered porches and additions that would make their homes more modern and spacious.
"It was like a ten year process," she said. "We had to vet everything through the community. There was a lot of opposition of adding onto homes because people were worried about their sight lines looking into the park-they didn't want their neighbors impeding their views into nature."
DESPITE THE LONG PROCESS and some heated meetings, McDonald was able to work with the community to put forth a plan that allowed for changes to take place.
The project was initially suggested by then Braddock supervisor Sharon Bulova, who brought the idea to the community. McDonald is thankful that Bulova and the rest of the community helped her in the entire process.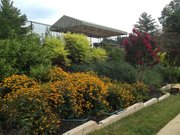 "It's a very close-knit community. We have a common bond because we're in a community that is right next to Lake Accotink Park, and we've got a lot of trees around. We have a lot of nature around us, yet we're very conveniently located next to the beltway. It's a very unique place," she said.
McDonald is also passionate about gardening, finding it a great way to express herself.
"It was a passion that was really kindled by this community," she said. "I wanted to learn more about trees, so it inspired me to join the maintenance committee."
She then received a degree at Northern Virginia Community College in horticulture, and took a certificate program at George Washington University.
"I would rather work in a garden than anywhere else," McDonald said.
Her husband, Greg, had a vision for a community vegetable garden, and McDonald led the effort to make it a reality.
"We have about 40 families that participate and can grow their own vegetables. That's been really successful," she said.
She's also a Master Gardener and a Virginia Certified Horticulturist, and in 2010 applied for a Neighborhood Enhancement Partnership Program grant through Fairfax County. The grant was used to put in wooden tiers around two man-made hills near the community's pool to prevent soil from spilling out. McDonald, along with 67 volunteers from the community, took out all of the overgrown shrubs and roots in the area and added new plants.
"We call it the centerpiece garden, and it's just really a great focal point for the community now. It's really nice," she said.
The 9,000 square foot garden is even on this year's Watershed Friendly Garden Tour, which will be held on June 8.
McDonald is also a founding member of the Braddock District Land Use and Environmental Management Committee, and now serves as chair.
"Serving the community on this committee has really broadened my experience with land use and allowed me to understand that there are always may perspectives to changes in our community and that each person's view is important," she said. "By listening and taking the time to understand these views, developers, county staff, the Planning Commission and the Board of Supervisors are able to make changes and compromises that make the projects better for everyone."
MCDONALD IS THANKFUL for the support of her husband Greg and daughter Stephanie, and is grateful that Supervisor Cook and the other members of the Board of Supervisors continue to make Fairfax County a great place to live.
"Supervisor Cook and his staff keep our district residents well informed and seek feedback on every major issue that our county faces. He enables any Braddock District resident, who cares enough to get involved, to have a voice in our community government," she said.
As the 2014 Braddock Community Champion, McDonald was honored at the Volunteer Fairfax Awards on April 25.
"Community Engagement has personal meaning for Cheryl McDonald. She has worked to demystify land use issues as chair of the Braddock District Land Use and Environment Committee and provided her services as a Master Gardener and Virginia Certified Horticulturist to her neighborhood. Danbury Forest and Braddock District are better places to live as a result of her tireless efforts to improve them," Supervisor Cook said.
A resident of each district of Fairfax County was honored as a community champion at the breakfast, along with numerous other individuals who have impacted the community. This year's theme was "Volunteers are Superheroes."
"These individuals make an amazing impact on our community. They do ordinary feats with extraordinary impact to make a difference here in Fairfax County," said Jeanne Sanders, executive director of Volunteer Fairfax, in an April video recognizing the nominees.