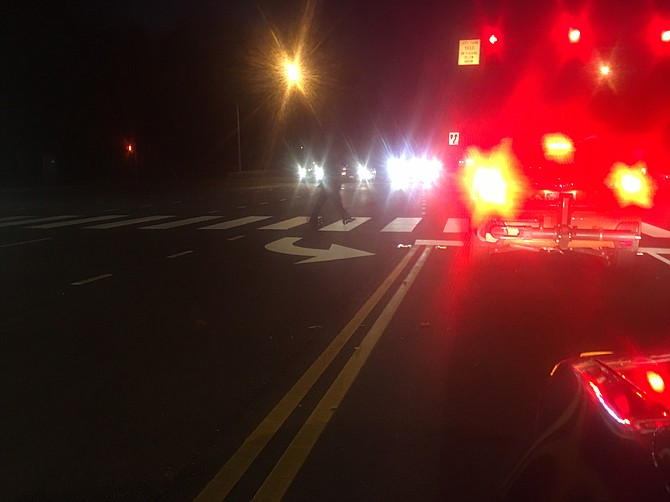 When Barbara Pearson crosses Braddock Road from the commuter parking lot to the bus stop by Danbury Forest Road, she and the other commuters make sure the drivers are aware of the pedestrians in the crosswalk.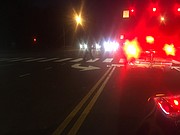 "Do not cross until you have the eye of the driver, we wait until they wave," she said.
Pearson was at the second Braddock Road Pedestrian Workshop to show support for the idea of a pedestrian bridge crossing Braddock Road at the Wakefield Chapel-Danbury Forest Drive intersection. It is just a drawing for now, but could be the second pedestrian bridge over Braddock Road if enough people support it. In the initial meeting last June, there were four pedestrian bridge suggestions, but now it has come down to the bridge at the Kings Park Shopping Center which is on the county plan, and possibly another at Wakefield Chapel Road.
"These three options have been whittled down to one," said Supervisor John Cook (R-Braddock) who hosted the meeting at Lake Braddock Secondary School on Thursday, Nov. 8. The pedestrians cross Braddock in the morning to access the eastbound buses to the Pentagon. "This is part of an effort to enhance more bus use," Cook said.
Construction on the pedestrian bridges or bridge, whatever is finally decided, will not start until 2023, but the final design concepts will be in by the spring of 2020. Pearson has been catching one of the #17 buses for four years to the Pentagon where she jumps on the Metro to her job at the Newseum. When looking at the plan, the crosswalks still looked more attractive because the actual bridge ramps were away from the intersection, and the stairs were not located in the best place, she thought.
Fairfax County Transportation Planner Michael Guarino said they'd consider changing that, but there is a stream underground to consider. "It's as close to the intersection as we could get it," he said.
Bill Brennan also supported the pedestrian bridge at Wakefield Chapel Road, and sees the traffic congestion every morning, which has an impact on traffic flow on Braddock Road. "We want very much to have this overpass," he said. The meeting was broadcast on Facebook Live, and got a comment from a Facebook user, that compared the intersection to a computer game of "Frogger," where the frogs jumped from rock to rock, crossing the stream.
When it came time for audience questions, one issue was brought up a few times: whether people would use the pedestrian bridge or just run across the road, like they are seeing now. "If they build it, I hope it gets used," said Jim Hickey, a resident of Ravensworth Farm for 30 years. He was also concerned about silt run off and trees.
Cook is encouraging comments by Dec. 10, and then they will move forward with the plans and the process.