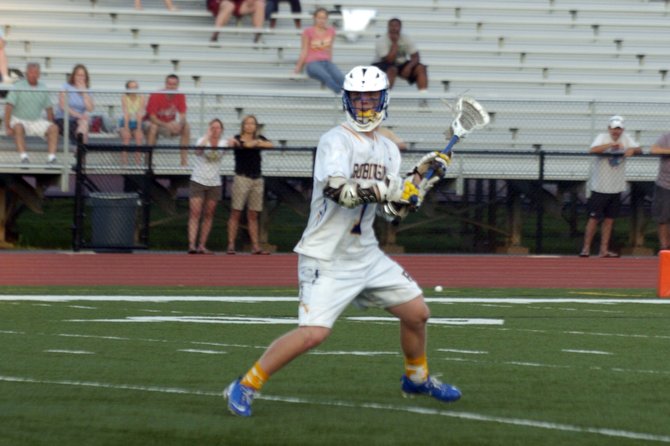 Doubt crept in the mind of sophomore attackman Johnny Daniel after the Robinson boys' lacrosse team lost to Landon, 15-1, on March 31. Were the Rams, who had just lost three of their first four games, really that good?
More than two months later, Daniel was doubt free as Robinson faced Battlefield in the 6A state semifinals. In fact, No. 23 settled into a comfort zone with a long-time teammate.
Sophomore midfielder Austin Henry scored three first-half goals, each assisted by Daniel, and Daniel added a goal of his own in the second half as the Rams secured a berth in the state championship game with an 8-4 victory over Battlefield on June 10 at Robinson Secondary School.
"We've been on the same team since seventh grade and we've done everything together," said Daniel, who has more than 30 goals and 30 assists this season. "Whenever he does a little move … I don't even have to look at him and he'll be wide open for a beautiful shot. That's a connection that I'm so happy that I've had and I'm going to have for the next few years."
Robinson led 4-3 at halftime, thanks to a first-half hat trick from Henry. After producing three first-half assists, Daniel scored with 10:01 remaining in the third quarter, giving the Rams a 5-3 advantage. Robinson led by at least two goals for the remainder of the contest.
"They know each other really well," Robinson head coach Matt Curran said. "Austin's one of the best shooters I've been around. When he catches inside, or even on the run, he has a tendency to [score]."
After a 1-3 start to the season, Robinson has won 16 consecutive games and will play in its first state championship game since 2007.
"I knew we had what it took," Daniel said. "In the beginning of the year, I doubted it for a second. We definitely stepped it up after we lost to Landon. … We promised to Coach Curran that we wouldn't lose any more games, because that's the worst feeling you can possibly have. We just stuck to our word and did the best that we could."
"I knew we had what it took. In the beginning of the year, I doubted it for a second. We definitely stepped it up after we lost to Landon."

--- Robinson sophomore Johnny Daniel
Robinson will face Langley in the state final at 8:30 p.m. on Saturday, June 14 at Lake Braddock Secondary School. The Rams thumped Langley 15-3 in the 6A North region championship game on June 6, but the Saxons bounced back to beat 6A South champion Osbourn Park in the state semifinals, 21-8, on Tuesday.
"[The Saxons] beat Osbourn Park pretty handily," Daniel said. "I don't think they were ready [in the region final]. Their game plan was not prepared last game, so we're really going to need to work hard and take this seriously. They beat [defending state champion] Chantilly. I think they just had an off game against us."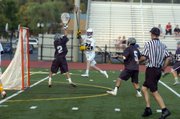 Curran said the Rams must avoid a letdown against Langley after beating the Saxons convincingly in the region final.
"I don't think we played our best ball tonight, so we need to play better," Curran said after Tuesday's win over Battlefield. "We can't take for granted at all that we had a great game against Langley the first time. They crushed Osbourn Park tonight. … After a 12-goal victory in the regional final … you take 15-, 16-, 17-, 18-year-old kids, it's almost guaranteed to be a little bit of a letdown the next game."
Battlefield held first-half leads of 2-1 and 3-2. Henry's goal with 9:02 remaining in the second quarter tied the score at 3-all. Henry scored again with 59 seconds remaining in the half, giving the Rams a 4-3 lead they would not relinquish.
Junior defenseman Jack Rowlett scored twice in the third quarter. His second goal gave Robinson a 7-4 lead with 4:20 remaining in the period.
Junior attackman Chapman Jasien and junior midfielder Jack Smith each scored a goal for Robinson.
Senior goalkeeper Nick Kondracki, who was voted team MVP this season, was credited with five saves.
"It means a great deal, it really does," Curran said of reaching the state championship game. "I'm really excited."
Robinson last won a state championship in 2007, when the Rams defeated Westfield in the final. Langley has captured four of the last five state titles, winning four straight from 2009-2012.