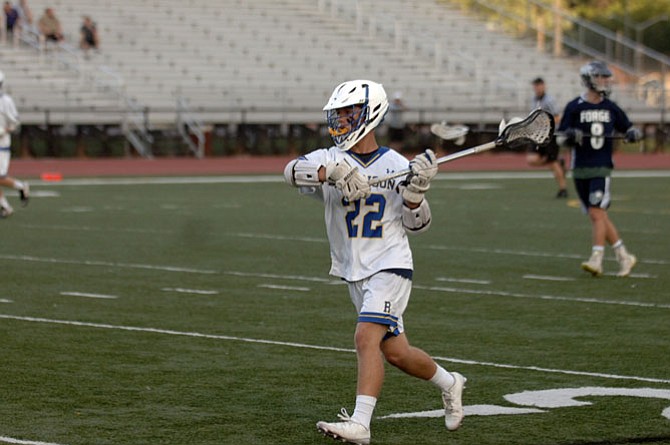 The Robinson boys' lacrosse team was playing well and Declan Connolly was holding his own, but the freshman attackman admitted he was still a little nervous after the Rams defeated T.C. Williams in the opening round of the region tournament.
Connolly has been one of Robinson's most dangerous playmakers, but he was still a ninth-grade starter in his first postseason with a program that had won the last two state championships.
Three weeks later, Connolly's postseason nerves seem to have disappeared. Meanwhile, opponents' hopes of keeping Robinson from reaching a third consecutive state championship game have also vanished.
Connolly totaled three goals and four assists and Robinson defeated Colonial Forge 14-3 in the 6A state semifinals on Tuesday night at Coffey Stadium. The Rams (19-2) will try to capture their third straight state championship when they take on James River in the state final at 5 p.m. on Saturday, June 11 at Lake Braddock Secondary School.
CONNOLLY scored the game's first goal and assisted the next three. Robinson led 9-0 midway through the second quarter and never looked back.
"I feel way settled in with the offense and the team now," Connolly said, "because [of] the practice we've put in and getting used to playing in these big games, like the Woodson game last week. ... I definitely feel more confident handling the ball and going to goal and taking shots that I know I can make."
The "Woodson game" was in reference to the 6A North region championship game on May 31. Robinson erased Cavalier leads of 6-1 and 13-6 before pulling out a 15-14 overtime victory that earned the Rams their second region title in three years and a first-round bye in the state tournament. Connolly had three goals and two assists in the contest.
"Honestly, [Connolly's performance on Tuesday was] nothing different than what I've seen all year," Robinson head coach Matt Curran said. "If he's had nerves, I haven't' seen them. He's been solid all year long. ... He doesn't play like a freshman. He plays like a senior."
Johnny Daniel, one of Robinson's senior leaders, said Connolly has proven he belongs at the varsity level and the elder Rams rarely make No. 22 take care of such freshman duties as removing goals from the field after practice.
"At the start of the playoffs he was still doing well, but it's natural for freshmen to get some nerves," Daniel said. "He's really ... grown into the player that he is and that he can become. At this point, he's not really even a freshman anymore. It's the end of the year, he's been starting for us almost every single game ­­­ basically all the games that he hasn't been injured. He's really not playing like a freshman at all anymore. I can count on him to handle any pass that I make to him. ... I always trust him and he's got some great vision, too."
Daniel and fellow senior VMI signee Austin Henry each had big games against Colonial Forge, as well. Henry finished with five goals and an assist and Daniel tallied four goals and an assist.
Junior attackman Liam Curran had four assists for Robinson. Junior midfielder Sam Swagerty and sophomore attackman Holden Patterson each had one goal and junior midfielder Nick Dillon had an assist.
"This season has been just an awesome ride," Daniel said. "I'm trying to leave a legacy with me and my brothers on my senior line ... for Robinson lacrosse for the younger guys to keep feeding off of. The guys above me did the same thing ­­­ people like (2015 graduates) Jack Rowlett and Chapman Jasien, (and 2014 graduates) Matt Smith and Sam Shaw the year before ­­­ I'm trying to be the same positive role model that I can be and try to get this last ring."
JAMES RIVER is the 6A South region champion and defeated Madison on Tuesday in the other state semifinal matchup.
"What I talk to them about is the fact that the last lacrosse game that I played here as a player, we won ..." Matt Curran, a 1991 Robinson graduate, said. "... I want them to walk off the field in their last game wearing a Robinson uniform as winners."