What if mental illness and suicide didn't have a stigma?
That's a question Safe Community Coalition and the Josh Anderson Foundation hope to make into a reality.
The two organizations invited students from schools throughout the area and parents to the Teen-to-Teen Mental Health Summit at McLean Community Center on Thursday to listen to a panel of teenagers about their experience with depression and how to help those who may be fighting the problem themselves.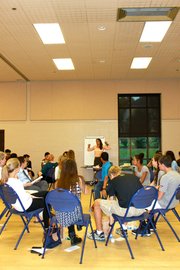 "You have to speak up, or you will be battling it alone," said Will Rau, senior at Langley High School. "Happy thoughts or wishful thinking won't cut it."
Each of the six panelists - from schools like Thomas Jefferson High School of Science and Technology, McLean High and Langley High - urged those with depression to get professional help. The first step for many was to tell their parents.
"Telling my parents was one of the best things in my life because at that point, things started to change," said Jack Saunders.
Saunders said he was a happy kid, but he began feeling a change in his mood when he was in middle school.
"I was always a happy person," he said. "My parents would call me their sunshine."
By the time he was in high school, he coped with his stress by scratching, then cutting, his arm. He also coped through alcohol, and nearly drank enough to kill himself one night.
"I wanted to get better, and that was a big part of it," he said. "You have to want to get better."
Miss State Fair of Virginia Hanna Hunt took her pageant crown off of her head that night to reveal herself as a Langley student who suffered from anxiety. The 17-year-old junior made teen depression and anxiety her platform after winning the pageant.
She said she often feels alone and like a failure even after having successes.
"I didn't want to go to therapy because you don't want to think you're crazy," she said.
After the panelists spoke, teens and parents separated. Parents were informed the best way to help teens deal with depression and anxiety while the students had a break-out session to figure out the best way to destigmatize depression at school.
After the teens discussed options, they presented the list to other groups. Many students found the event and discussion helpful and enlightening.
"I have experience with depression," said 17-year-old Jamie Simon, Reston. "It was good to hear other people tell their stories, and I felt a grounding experience that helped me orient myself."
Others came to the event because they had friends who were dealing with depression and did not know how to help them. In February, two students at Langley High School killed themselves in the same week due to unspoken depression, causing a surge of interest in the topic and a hope for change.
"I came here because I'm interested in this topic," said 16-year-old Apiding Osika, McLean. "A lot of people at my school have these issues, and I don't know how to help them. It helped me to see how to deal with the issue and see how common it is."