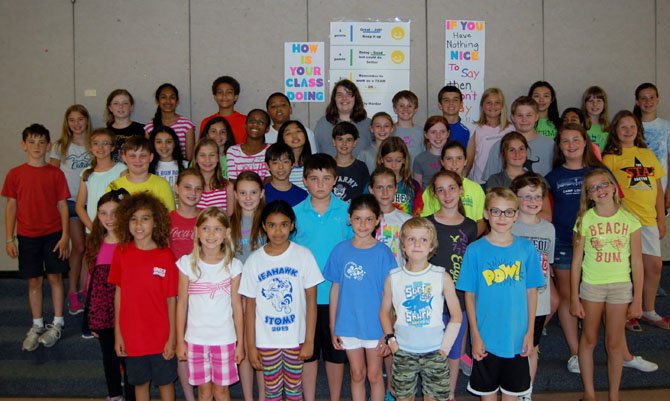 STEM Fair Participants
Erika Ashley, Lauren Jones, Summer Keating, Elizabeth Mueller, Catherine Nelson, Sonja Todd, Katie Zaszewski, Noelle Clark, Emma Crescoff, Sam Mancini, Isha Patel, Karoline Kachinski, Bryan Shirkey, Spencer Todd, Drew Westin, Mirette Arafa, Michael Aleandre, Djibril Camara, Chris Cammarata, Sammie Chatovitz, Katrina Clark, Rebecca Connor, Elijah Cook, Nicole Englebrecht, Isabel Grassley, Lexi Gregg, Kathryn Hopkins, Nicholas Hyland, Dustin Isaacson, Paige Kern, Emily Kliem, Will Kobbe, Jaella Lahat, Bree Lee, Halle Lynam, John Nerad, Jordan Phillips, Radhikia Rajpurohit, Amina Suleman, Regan Swartwout, Nina Van Meter, Emma Wilkie, Lizza Gedra, Tyler Norrie, Summer Saine, Luke Sedlar, Sofia Cook, Sophia Keating, Caroline Kern, Siya Patel, Jake Sedlar.
Over 50 students participated in a STEM (Science, Technology, Engineering, and Math) fair presented by the Silverbrook Elementary School PTO.
"It truly is a collaborative effort, bringing together administration, teachers, parents, and students who all have a common passion for STEM-related topics - with each entity playing a critical role in the education of students," said Kimberly Kern, secretary of the PTO and chair of the school's STEM committee.
The STEM program was initiated by the PTO at Silverbrook in 2011. Since then it has grown to include the STEM fair and STEM afterschool programs, Math league, Odyssey of the Mind, Chess, and STEM initiatives within each grade level. Next school year, a STEM certification program and science resource closet will be added.
Teachers, administrators and parents are working together to ensure that students foster a love of STEM.
"Silverbrook Elementary School has an amazing group of teachers who with the guidance of Dr. Mackin, the support of the parents, PTO and the PTO STEM committee chair Kim Kern have created a robust STEM program," said Georgia Hyland, president of the school's PTO.