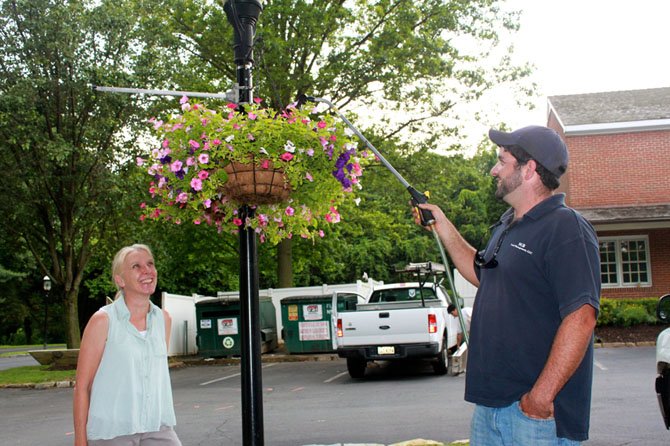 Three times a week, George Benza drives around the village with 250 gallons of water and a sprayer in the back of his pickup truck.
When other residents are getting ready to leave for work at 7 a.m., his job is half way done.
As the owner of SGB Land Management, Benza is paid to water 65 baskets of pink, purple and white petunias adorning lampposts.
"Seven o'clock in the morning is the best time to do it," he said. "It's the easiest and sets them up for the heat of the day."
Merchants pay $182 per basket, but Great Falls Citizen's Association subsidizes the project.
"A lot of communities have gone to the flowering baskets. They've become a staple of the American summer."

-- GFCA vice president Bill Canis
The baskets have been hung up for the third summer in a row, but they do not maintain themselves. Benza takes note of the weather, watering them more during the dry season and less when summer thunderstorms take over a few days.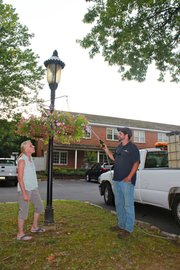 "Once a week, we'll put some miracle grow on it," he said.
Watering the plants takes place between 6 and 8 a.m., while Great Falls residents are busy waking up and getting on the road for work. However, he said he sometimes has conversations with people who see him with sprayer to reach the hanging baskets. When they ask, they find that Benza, a Great Falls local, started his landscape business six years ago to give back to his community.
The petunias were purchased from Joanne Shumpert, Landscape Design Associates formerly known as Treefrog Nursery.
"They are particularly hardy," she said about why the flowers were chosen for the summer baskets. "They have a large bloom and can stand the sun and the heat."
The plants are nurtured at the nursery before being hung throughout the village in mid-May.
"It gives a visual unity to the area," said GFCA vice president Bill Canis. "A lot of communities have gone to the flowering baskets. They've become a staple of the American summer."
Canis hopes local businesses can contribute more next summer to the village beautification project.
"GFCA contributes significantly to the project, both financially and by managing it," he said. "We would like to identify some local residents who enjoy them and, for next year, would like to step in and sponsor the baskets financially."
To help contribute to next year's flower baskets, contact Canis at bcanis@yahoo.com.