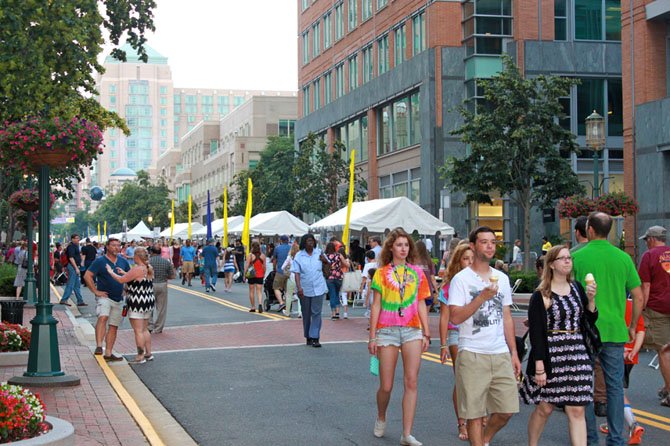 Thousands of people braved high wind gusts and ominous storm clouds at Reston Town Center over the weekend.
The 24th annual Taste of Reston, where visitors can buy tastes of the dishes from restaurants all over town, filled the area with the scent of vegetable tacos, pizza, peanut noodles and the sight of flipped tables and flying cinders from the more than 20 vendors Friday evening.
The event ran Friday 3 to 11 p.m.; Saturday noon to 11 p.m.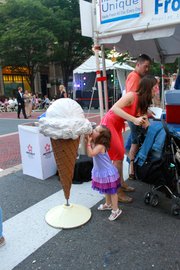 Columbia, Md. residents Kate Forshey and Ryan Lauer were enjoying a funnel cake and beer when the wind came barreling down the street. They covered their food and were determined to wait the weather out.
"This is our second year coming here," said Forshey. "Neither of us had to work today. We had dinner, had a drink. We're going on dessert now. A little storm can't scare us."
Greater Reston Chamber of Commerce (GRCC) Event Planner Lesley Green previously said the Taste of Reston attracts 65,000 to 70,000 people annually.
The profit from the event will be used to fund GRCC's incubator program to help support new businesses grow.
The event ran its third year of the Wine 'n Dine area, where local restaurant chefs had culinary demonstrations on Saturday so visitors can make their own epicurean masterpieces.
Although food was the main event, there were several stages of musicians playing throughout the weekend. Groups of children danced in the pavilion area to top 40 cover bands.
Fitness and dance demonstrations also took place in the Family Fun Zone Saturday, including a hula hoop competition and a Zumba demo.
Many of the vendors stations had short lines where cooks would prepare the food as quickly as possible for the throngs of visitors.
Clyde's of Reston Executive Chef Patrick Carroll decided on a menu that would be as easy to eat as it would be to cook. He flipped flank steaks and sliced zucchini on the grill throughout the event to turn into meals like grilled squash tacos.
"We like to use local ingredients," said Carroll. "We used vegetables from Spring Valley Farm, and the flank steak is from Shenandoah Valley. We wanted to do something fun - fun hand food."
Casey Hansen brought her family from Sterling. She was getting cups of ice cream from the Milwaukee Frozen Custards table.
"He grew up in Reston," she said, pointing at her husband. "It's a good place for us to eat and drink, and the kids have a good time."