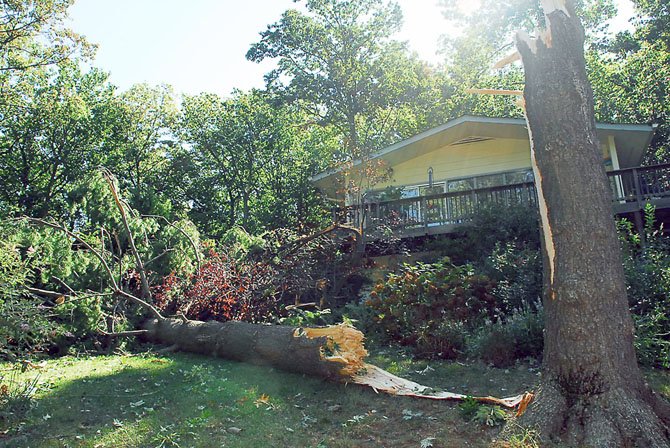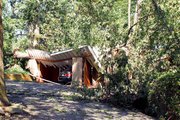 It felt like déjà vu on South Shore Drive near Lake Anne in Reston. A powerful wind and rain storm hit the area around 3:30 Saturday afternoon. The majority of the storm damage was concentrated, almost in a straight line, from North Shore Drive near Fairway Apartments to Weihle Avenue.
Randy and Nina Sands' house was hit by a falling tree during the derecho storm in late June. On Saturday afternoon Randy was at home as the winds started to blow. Again his house was hit and his truck was crushed by falling trees. Under the debris lay boards he had bought to repair his roof damaged in the June storm. Randy said he was started to feel targeted by Mother Nature.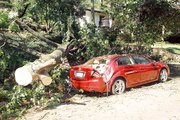 Across the street, neighbors Tom and Sue Hill did not escape unscathed. An oak fell on their garage. Sue said she was on the phone with her son in Ashburn when the storms hit. The ominous skies and violently blowing trees lead her to seek shelter on the lower level. Once the storm passed and she surveyed the damage, she noted that it appeared that the car in the garage didn't have a scratch on it. On Sunday she did not want to risk entering to double check her assumption for fear the oak would continue its fall.
In nearby Waterview Cluster, a row of pine trees that divided the neighborhood from Orchard Green were snapped and toppled. One large pine fell across Orchard Lane around 3:30 p.m. Thanks to neighborhood responsiveness and help from firefighters the tree was removed in two hours.
All along Fairway Drive and North Shore Drive trees were toppled, snapped and splintered.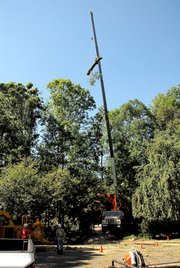 Tree removal companies and their trucks and cranes cramped onto South Shore and along Fairway Drive throughout the day Sunday and into Monday. Residents said VDOT came through South Shore Drive on Saturday and cleared the roadway. Still there were trees to remove from rooftops.
In all, the storm lasted just a few minutes, but caused thousands of dollars of damage. Numerous homes, garages and cars were damaged. No injuries were reported.
According to reports from the National Weather Service, the storm that hit Reston Saturday was not a tornado.