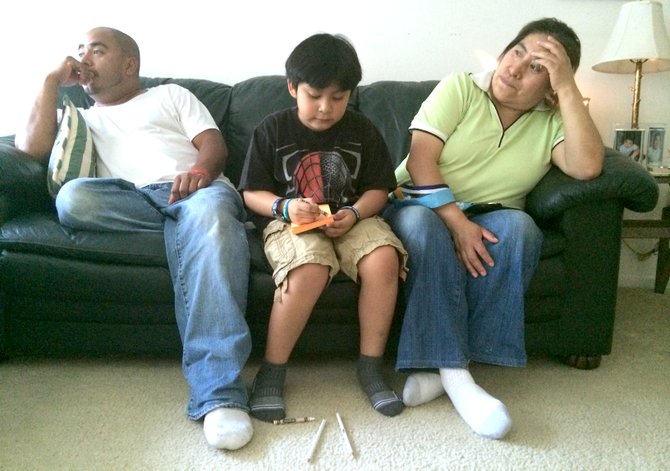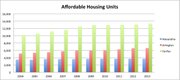 Patchwork of Approaches
The City of Alexandria has the Housing Opportunities Fund, which was created in 1992 and is administered by the Office of Housing. Most of the fund comes from developer contributions, although it also includes some money from the city's general fund as well as federal funds from the HOME Investment Partnership Program of the U.S. Department of Housing and Urban Development. City officials estimate that the fund will receive $3.1 million in developer contributions over the next three years, which is expected to create or preserve about 25 units of affordable housing each year. In addition to money in the fund, the City Council also dedicates six-tenths of one cent of the tax rate for affordable housing. That produces about $2.1 million a year, most of which is used to pay for debt service bonds. The remaining funds generate about 10 units each year.
Arlington has the Affordable Housing Investment Fund, which was created in 1988 and is administered by the Department of Community Planning, Housing and Development. The fund is made up of local and federal money as well as loan repayments and developer contributions, all of which totaled about $20 million in 2013. Since it was created, the fund has produced about 6,500 affordable rental units and more than $200 million in loans have been granted. In conjunction with the county's Affordable Housing Ordinance, the revolving loan fund provides incentives for developers through low-interest, secondary loans for new construction, acquisition and rehabilitation of affordable housing. For every $1 of public funds, $3 in private funds are invested.
Fairfax County has the Penny for Affordable Housing Fund, created in 2005 to replace the Housing Flexibility Fund, which was created in 1990. The fund, which is administered by the Department of Housing and Community Development, is composed of county contributions, developer contributions and federal funding. In 2005, the Fairfax County Board of Supervisors adopted a budget that dedicated one penny of the real estate tax to preserving existing affordable housing, which produced about $20 million a year. The fund raised $80 million and preserved 2,500 units of affordable housing until 2009. When the global economic crisis created a scramble for money, the Board of Supervisors voted to reduce funding to the program by 50 percent. Since that time, the fund has provided $154 million for affordable housing in Fairfax County. On average, for every $1 of Housing Trust Fund money, $7 is leveraged from outside sources to create and preserve affordable housing.
Adrian Pineda is worried.
Scribbling on an empty sheet of paper with an orange crayon, the first grade student at William Ramsay Elementary School said he does not want to lose all his friends. He's lived in Alexandria all his life, and he doesn't want to move. But his parents have warned him over and over again that they may not be able to afford to stay in Alexandria, where the city government recently approved a zoning change that will open the door to a developer demolishing their apartment complex and replace it with high-end housing his parents will not be able to afford.
"I don't understand," said Adrian, who is 7-years old. "Why do we have to move?"
His father is a cook at a restaurant, and his mother is a housekeeper. Together they earn about $34,000 a year in a city where the median household income is $84,000. That's about 40 percent of the area median income, which means his family might be able to qualify for one of the 800 units of dedicated affordable housing members of the City Council included in the zoning change allowing the developer to move forward. But because the sprawling series of apartments that will be demolished have 2,500 market-rate affordable housing units, his parents feel the elected officials sold them out.
"They don't care about us," said Hector Pineda, a native of El Salvador who helped organize his neighbors in an unsuccessful effort to oppose the zoning change in 2012. "We work hard, and we make money for this city. But they don't care."
Affordable housing means different things to different people at different times. For government officials, it's a phrase that means that a family spends no more than 30 percent of its income on housing costs, including rent or mortgage as well as taxes and utilities. Sometimes that's a function of the free market, such as the rent paid by the Pineda family. Other times, residents live in dedicated affordable housing units that local governments set aside for limited periods of time to help offset the displacement created by gentrification and development. However affordable housing is calculated, it's clearly been vanishing from the region for some time — leading to a growing concern that the Northern Virginia is increasingly becoming an exclusive enclave for the wealthy. The Northern Virginia Affordable Housing Alliance estimates that 25,000 rental units are in areas slated for revitalization, which puts more than 11,000 low-cost units at risk.
"When you look at the communities that are getting pushed out, it's the communities of the most vulnerable," said Ross Kane, associate rector at St. Paul's Episcopal Church in Alexandria, who is trying to organize a faith-based response to the affordable housing crisis in Northern Virginia. "That affects the most marginalized people in society the most, and so to me that makes it a moral issue from a Christian perspective."
ARLINGTON COUNTY has been the most successful in creating dedicated affordable housing units over the last decade, increasing the stock by 30 percent over the last decade. Arlington now has almost 7,000 units of dedicated units, which represents 7 percent of the households in the county. By contrast, Alexandria has increased its stock of affordable housing units by only 7 percent over the last decade. That represents about 6 percent of households in the city. Although Fairfax County has increased its housing stock more than 30 percent over the last decade, the county's dedicated affordable housing units represents less than 4 percent of households in the county.
"Fairfax County does have both their affordable dwelling unit ordinance and what's called their workforce policy ordinance, which says that if you are redeveloping there's a requirement that you develop housing for the workforce," said Michelle Krocker, executive director of the Northern Virginia Affordable Housing Alliance. "The weakness I see in that is that these workforce units serve people from 80 percent to 120 percent of area median income, and that's a high level of income to be serving. We really need to be serving people at 60 percent of area median income."
Getting a dedicated unit is not easy, and local governments are struggling to deal with increasing demand as low-income residents find themselves living in an area where the cost of living is rising faster than their incomes. The lingering effects of the recession also make it difficult for those at the bottom end of the economic spectrum. In Fairfax County, for example, so many people have applied for federal Housing Choice vouchers administered by the public housing authority that the waiting list closed on March 1, 2007. It's been closed ever since, and more than 3,000 families are still waiting for help paying for housing.
"When an applicant's name comes to the top of the list, approved applicants receive a voucher which entitles them to look for housing in the private market," said Thomas Fleeetwood, associate director of the Fairfax County Department of Housing and Community Development. "Homeless families referred for vouchers do not have to be on the waiting list prior to receiving assistance."
BACK IN 2004, when the housing market was exploding and home values were skyrocketing, affordable housing was vanishing from Northern Virginia. Tenants were facing eviction as apartments were converted to condominiums and low-income people were being pushed to the out to the exurbs. Many people feared a sea change that would change the face of Northern Virginia forever. That's why the Arlington County Board started requiring developers to set aside at least 10 percent of their floor space for affordable housing. Developers sued, and the program was declared unconstitutional.
"The way Northern Virginia jurisdictions have gotten around this is by creating conditions for redevelopment," said Krocker "So if you come in for a rezoning, there are expectations that you will address certain community benefits, affordable housing being one of them."
The boom and bust of the housing market set the stage for the patchwork of approaches taken by jurisdictions in Northern Virginia, where elected officials and government leaders have taken a variety of strategies to work against losing its racial and ethnic diversity. Nowhere has the shift been more dramatic than Fairfax County. At the height of the bubble in 2005, members of the Board of Supervisors created a dedicated source of revenue for affordable housing — one penny out of the tax rate, essentially setting aside about $20 million every year. But when the market came crashing down, they slashed the program in half to balance the budget. Critics say elected officials in Fairfax chose to prioritize redeveloping Tysons Corner over preserving affordable housing.
"The politics is huge," said Mel Jones, research associate at the Virginia Center for Housing Research at Virginia Tech. "If you can't get the politics behind doing this stuff, it's not going to happen."
DEDICATED SOURCES of revenue have been a controversial tool for raising money to preserve affordable housing. In May 2005, members of the Alexandria City Council passed an ordinance dedicating one cent of the property tax value to develop and preserve affordable housing in the city. Since that time, the political will to maintain that funding has been steadily diminishing. Council members voted to reduce the dedicated source of funding to 0.7 cents in 2009, and then sliced it again to 0.6 cents in 2008. Last year, City Manager Rashad Young removed it altogether when the budget was adopted although several council members later said they didn't know that was part of the final budget agreement.
"It was not an accidental thing in my opinion," said Smedberg, who has argued against using a dedicated source of funding. "People need to start paying attention and listening."
Council members later went back and added the dedicated source of funding back, restoring the 0.6 cents out of the tax rate for affordable housing. A few months later, the city manager found himself in the midst of yet another firestorm over affordable housing, this time when he waived a $1 million contribution to the Affordable Housing Trust Fund to lure the National Science Foundation from Arlington. City Council members later said they didn't know the incentive was part of the package until it was too late.
"It was my oversight," said Deputy City Manager Mark Jinks. "I take full responsibility."
TAKING RESPONSIBILITY for affordable housing has been a risky proposition in recent years. Since the global economic crisis brought home values crashing down in most of Northern Virginia, the political will to fund affordable housing programs has steadily diminished. When budgets got tight in Fairfax and Alexandria, leaders in both communities cut back on their dedicated source of revenue for affordable housing. And some elected officials in Alexandria are still calling for an end to setting aside any portion of the tax rate for affordable housing or any other priority. Advocates for affordable housing say that would undermine the concept of having a trust fund in the first place.
"If we commit an ongoing revenue source, then we can be creative and consistent in addressing those needs and it just fits better with how development happens," said Mary Brooks, director of the Center for Community Change. "And to have a consistent and reliable source of revenue enables the development community to be smarter about how they invest that."
Many affordable housing advocates in Northern Virginia see Arlington as a model that other local governments should emulate. Despite that fact that Arlington does not have a dedicated source of revenue for affordable housing, elected leaders there have shown a consistent willingness to invest in the Affordable Housing Investment Fund. Last week, County Manager Barbara Donnellan identified several county-owned parcels that could be considered for future affordable housing and public school developments within the next several years.
"Their political leadership has identified that as a strong priority just like the leadership in Alexandria has identified building a Metro station at Potomac Yard as a strong priority," said Krocker. "The main answer is money, but the money flows from the priorities of the leadership and the vision of the leaders."