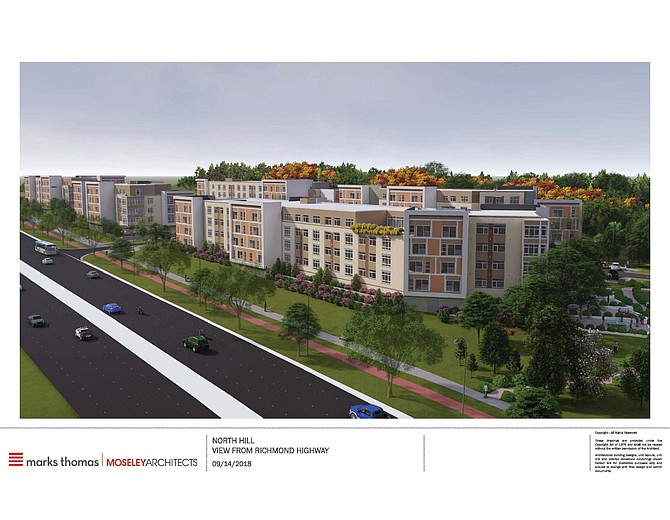 Years ago, there was a trailer park, a Shakey's Pizza and the Brooks Motor Lodge along Richmond Highway across from Lockheed Boulevard. One by one, those businesses closed and the 22-acre trailer park area sat vacant for several years. Now it's the planned site of the Residences at North Hill, a mixed-use development that will receive partial funding from an $11 million in Affordable and Special Needs Housing loan allocation from the Commonwealth of Virginia.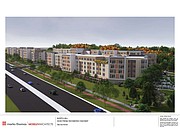 North Hill is one of three Fairfax County projects that will receive funding and one of two projects in the Mount Vernon District. Plans for the 279-unit project are described by the county as a "mixed income affordable and market rate housing community comprised of multi-family rental apartments and for-sale townhouses." The other project is The Arden which will be closer to the Huntington Metro Station. Additional county funds, and funding from several other sources, will create more than 400 housing units for workforce, senior and low-income residents at these two sites, the Mount Vernon District office said.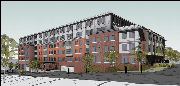 "Affordable housing is and must continue to be a top county priority. As the Richmond Highway Corridor develops, Embark comes to fruition and Amazon HQ2 arrives, we know we need to continue creating and preserving affordable housing for all. If you live or work in our community, you should have the opportunity to continue to live here," said Supervisor Dan Storck (D-Mount Vernon).
According to information released by Gov. Ralph Northam (D), the North Hill property will receive two portions of the funding totaling $2,300,000 and the Arden Building will receive $700,000. Other projects in Northern Virginia that are receiving money from this funding source is the new Lake Anne House in Reston and the American Legion Uniting to Serve project in Arlington. Both of those projects will receive $700,000 each.
The $11 million is from Federal Funding, Virginia Housing Trust Fund, and Permanent Supportive Housing sources. All the Fairfax County projects were allocated out of the Virginia Housing Trust Fund portion.
Affordable and Special Needs Housing (ASNH) loans are awarded through a competitive process, the Governor's office said. The Virginia Housing Trust Fund is a key source of financing for these affordable housing initiatives to support moderate- and low-income families. The governor and the General Assembly doubled the Virginia Housing Trust Fund in this recently completed budget cycle, providing an additional $5.5 million and bolstering the state's commitment to increase affordable housing for low- and very-low-income persons.
"My administration is working hard to find innovative ways to reduce homelessness, expand access to quality affordable housing, and address evictions in Virginia," said Northam in a release. "The Affordable Special Needs Housing program provides Virginia the necessary resources to transform our housing stock and help create vibrant, thriving communities for all Virginians, in every part of the Commonwealth."
The Embark Housing Advisory Group looked into affordable housing units in the Mount Vernon District in December 2018 and found that there were approximately 3,958 housing units in the Mount Vernon District that are affordable to households earning up to 60 percent of the area median income.