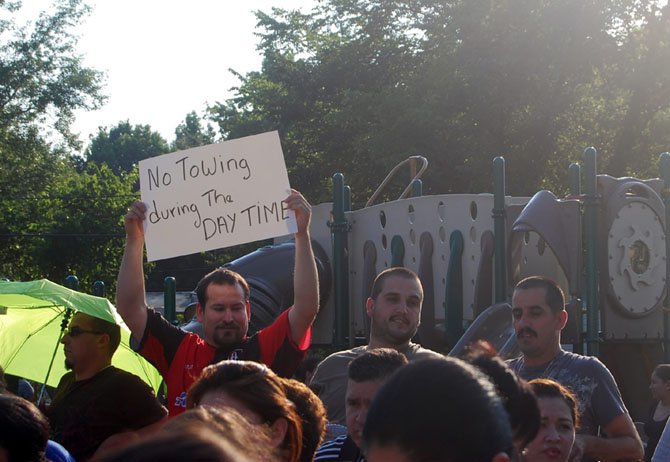 For years, residents living right off of Richmond Highway, including those who live at Audubon Mobile Home Park located next to Costco, faced a lack of safe, quality places for their children to play.
Eager for change, the community came together with the help of Virginians Organized for Interfaith Community Engagement, or VOICE. VOICE worked with residents of Audubon, faith leaders in the area, and coaches from local schools to get momentum going towards the building of new fields.
Now, residents are celebrating the opening of several new fields in the area. One is now in the Audubon community and was founded by its owner, Hometown America. Four fields at West Potomac High School and Mount Vernon High School are also being renovated with synthetic turf, thanks to $3 million from Fairfax County and over $200,000 in school fundraising.
At an event on June 16, residents of Audubon, as well as leaders from the community and VOICE, gathered at the mobile home park to celebrate the new fields.
"This is the year for a state championship for West Potomac and Mount Vernon," said Rick Genaurio, co-president of the West Potomac High School booster club, who spoke at the event.
Audubon, a low-income community, primarily consists of Latino immigrants.
Yolanda Peña, a resident of Audubon Mobile Home Park, has two children and has been living in the community for six years.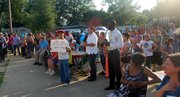 She said that in 2012, some of the mothers in the community came together to voice their concerns over some of the issues the community was facing. Not only was there a lack of recreational area for their children, but also a dangerous side entrance from Walmart where some people were doing illicit activity. They decided that needed to be cleaned up.
Instead of complaining, the mothers decided to take matters into their own hands to create a better environment for their children, Peña said. Thus began the journey with VOICE.
"As part of VOICE, we have learned to have a voice in our community," Peña said through a translator.
In addition to celebrating new recreation space for their children, residents also spoke about other issues in their community. Community members held signs with messages such as "more respectful treatment from the office staff," "no towing during the daytime" and "no rent increases."
The neighborhood is quite large, Peña said, with 711 trailers and more than 1,500 children, one of the most densely populated areas with children in Fairfax County. Each family owns their own trailer in the Audubon community.
"In addition to paying the price of the trailers, we also pay rent for the land, and utilities on the side," Peña said.
Peña and other community leaders say rent prices have continued to increase, and they're hoping management will put a stop to it. Tara Edmonds, regional manager of Hometown America, the company that owns Audubon, was scheduled to speak at the event, but VOICE leaders said she had to cancel when she found out media would be there, as she said it is against company policy to speak in front of the media.
Still, residents are pushing for continued change. Carla Claure, a resident of Audubon, told the audience gathered at the event that management is open to talking about some of the issues continually faced by those in the community.
This includes the issue of towing. According to Claure and other leaders, the towing company is often predatory and is towing cars 24 hours a day, seven days a week. Residents hope this will change, as they cannot afford the fees associated with this towing.
There's also a concern that some areas of the neighborhood are still somewhat dangerous, but leaders recently met with the Mount Vernon Police Station and there will now be a greater effort by police to patrol the neighborhood.
Despite some of the obstacles, residents say Audubon is a nice place to live. The speakers were optimistic about the future of the Richmond Highway corridor.
Before, the Mount Vernon and Lee districts didn't have any synthetic turf fields, Lee District Supervisor Jeff McKay said at the event. McKay helped the community secure funding for the turf fields.
"Now, we have four, and will be in the double digits soon," he said.