Mount Vernon — A 200-person event, organized by the community organzation VOICE, brought together Route 1/Mount Vernon/Lee area youth, parents, and faith leaders to celebrate progress to improve youth recreation facilities and programming in the area on Monday evening, June 10, at West Potomac High School.
Photo Gallery
Celebrating Progress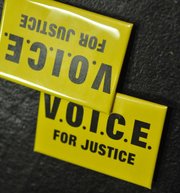 Community event organized to celebrate progress to improve youth facilities at West Potomac High School.
Click Photo for Flash
In the last year, VOICE leaders allied with West Potomac and Mt Vernon High School youth and parents to:
Work with Supervisor Gerry Hyland (D-Mount Vernon) to identify the first $1.4million for synthetic turf fields at the high schools;
Get the field at Muddy Hole Farm park re-lined so it is now regulation-size and new football goal posts installed working with Supervisor Jeff McKay (D-Lee), and
Hold two Spanish-language sports/activities registration events in Audubon Mobile Home Park where more than 1,000 youth live — and secure a commitment from the management to open the basketball court on the property, clean up and pave a street and build a small soccer field for youth in Audubon.
Monday's gathering was hosted by VOICE member congregations Bethlehem Baptist Church, Good Shepherd Catholic Church, and VOICE of Mt Vernon (made up of members from St Luke's Episcopal Church, Mount Vernon Unitarian Church and others) — and ally organizations West Potomac High School Wolverine Athletic Booster Club and Mount Vernon High School Athletic Booster Club.