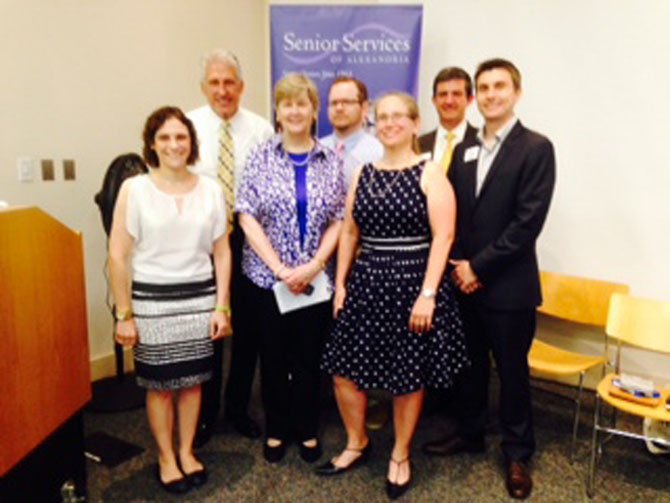 Technology can be intimidating to learn and use, but when you get past the fear, it can enhance your life in many ways. That was the takeaway from Senior Services of Alexandria's June Speaker Series last week at Beatley Central Library. David Baker, SSA's board of directors' vice chair, kicked off the event that featured several local experts talking about everything from audio books and library services, high tech for low vision to technology devices for senior care in your home.
Kym Robertson with the Talking Books Program, and Adult Services Coordinator Kevin Osborne with the Beatley Central Library gave an overview of the technology programs offered at Alexandria Public Libraries. The Library of Congress' National Library Service for the Blind and Physically Handicapped (NLS) program produces novels, nonfiction, magazines and other recreational reading materials on digital cartridges that are loaned to libraries across the country. By enrolling in the talking-book program, audio books are available free at the library or by mail along with the operating device. If you are looking to read books from a Kindle or an iPad and not sure which one is best for you, the library has "tech" experts who can help you make an informed decision on what's right for you. Library "drop in" hours are every Tuesday from 3-5 p.m. To get the hours for the Adult Services Desk to make a one-on-one appointment go to www.alexandria.lib.va.us.
Dr. Alexis Malkin with the Low Vision Learning Center gave an overview of the vision rehabilitation services offered to individuals who are visually impaired. Some of the electronic aids include electronic magnifiers and other optical and electronic visual aids to cope with chronic vision loss. The find out more, go to www.lowvisionservices org. or call 703-652-7803.
Josh Dunning from AARP's Driver Safety program discussed how vehicles and roads have changed and discussed the benefits of the AARP Smart Driver Course. The course is designed to help update driving skills and knowledge of the rules and hazards of the road, learn about normal age-related physical changes and how to adjust your driving to compensate and how the effects of medications can have on driving. Auto insurance companies in most states provide a multi-year discount to course graduates. To find out more and how to register go to www.aarpdriversafety.org.
Jim Lindsay, president of ACCfamily (formerly known as Adult Companion Care), gave an overview of technology for senior care in the home including the use of sensors and monitors for caregivers of loved ones with dementia or other memory issues. This technology can ease some of the stress caregivers face and ACCfamily can discuss various options, visit their website at www.accfamily.com.
To download copies of the presentations, go to SSA's website at www.seniorservicesalex.org. SSA's Speaker Series will start again in the fall with Senior Law Day on Saturday, Oct. 18 at First Baptist Church, 2932 King Street in Alexandria. If you have any topics for the 2014/2015 Speaker Series, email Mary Lee Anderson at executivedirector@seniorservicesalex.org or call SSA at 703-836-4414. Just a reminder to watch SSA's monthly cable 30-minute television show, "Senior Living in Alexandria," every Sunday at 2 p.m. on Comcast Channel 70. You can also find it on Youtube, just search for "Senior Living in Alexandria." Thanks to Mitch Opalski at Synergy HomeCare for sponsoring this program.