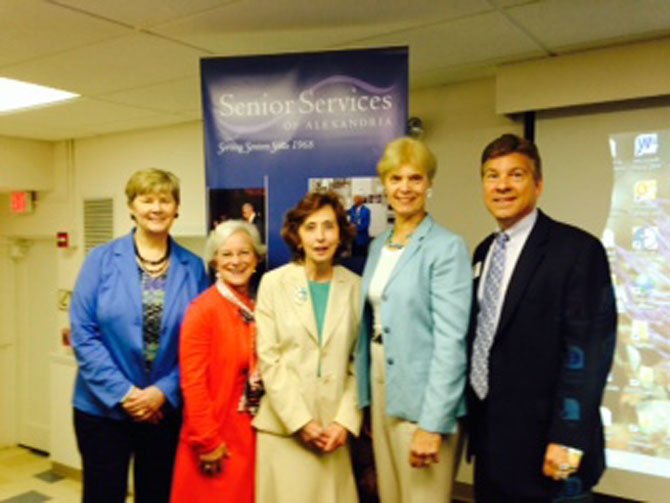 Alexandria's seniors can benefit from a vast array of services and programs available through local non-profits and city programs, but it may be challenging to know where to start. The good news is that there are a variety of ways to get information about what is available to seniors living in the City of Alexandria:
Senior Information Centers are located in all four public libraries and the five largest recreation centers. They are stocked with information about upcoming events; services available and other useful resource materials.

The City Division of Aging and Adult Services website: https://www.alexandriava.gov/Aging lists the many services that the city provides to seniors.

Senior Services of Alexandria produces a monthly cable television program, Senior Living in Alexandria, broadcast airs every Sunday at 2 p.m. on Alexandria Comcast 70, and on Arlington Comcast 69 Sundays at 1:30 p.m.

SSA's monthly Senior Speaker Series presents local experts discussing important topics ranging from legal and financial issues to caregiver support, senior employment, housing and memory loss.
This month, panelists talked about "Positive Approaches to Difficult Conversations." Experts from AARP, MediationWorks, Synergy HomeCare and the City of Alexandria's Division of Aging & Adult Services offered practical tips for ways families can constructively plan for life's changes with their aging parents. Advice included how to determine when to shift from driving to other transportation options, ways to successfully introduce in-home caregiver support, and factors to consider when evaluating assisted living and continuing care communities in our area. Copies of the presentations and links to several useful websites may be found at www.seniorservicesalex.org
Please take the time to check out the many ways SSA's is communicating with Alexandria's senior community, and let us know how we are doing. We'd love your feedback and ideas on new topics to address and ways to communicate more effectively. Send your comments to executivedirector@seniorservicesalex.org or call 703-836-4414, ext. 10.
Finally, don't miss the June Senior Speaker Series program: "Technology for Seniors," on Wednesday, June 11, from 9:30 a.m. – noon at Charles Beatley Central Library, 5005 Duke St. Come and play with the Tech Petting Zoo and find out how technology can make seniors live easier. It's free, light refreshments will be served, and you can register at www.seniorservicesalex.org or by calling 703-836-4414, ext. 10.