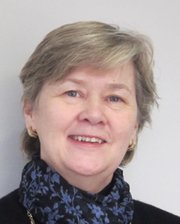 Alexandria is a caring community, and we have numerous nonprofits throughout the city that work together for a better Alexandria. As part of our mission to "foster independence and self-sufficiency, enabling seniors within the city of Alexandria to age with dignity," SSA looks to create natural responses to needs we see in the community when they fit within our mission. SSA's expertise in reaching seniors where they live has led to the creation of a Library Materials Delivery program in partnership with the Alexandria Library and Animeals on Wheels pet food delivery to senior pet owners in partnership with the Animal Welfare League of Alexandria. These programs have been well received by seniors in the community.
The Library Materials Delivery program provides library resources — books, paper and audio, periodicals and videos to seniors enrolled in the Friendly Visitor Program. The Friendly Visitor program, created in 2012, matches isolated seniors with members of community for companionship. With this new library program, seniors can now choose what they would like and the Friendly Visitor will pick it up from the library and deliver to their senior at their weekly visit.
The Animeals program uses SSA's volunteers to deliver pet food once a month to senior pet owners who are 60-plus years with an annual income below $48,000. We're getting real interest in the program.
In addition to these new programs, SSA's future goals include the growth of Meals on Wheels, expansion of Friendly Visitors, increased information and outreach through the Speaker Series, Senior Information Corners and Senior Living in Alexandria cable program, and continued measured responses to the needs of seniors in our community. To hear more about SSA's plans and its roadmap for the future, please join us at our Annual Meeting and Luncheon on Wednesday, June 18 from noon to 1:30 p.m. at The Fountains at Washington House, 5100 Fillmore St. in Alexandria. Our special guest speaker is John Porter, CEO and president of ACT for Alexandria, who will talk about the importance of collaboration among non-profits for a better community.
On Wednesday, June 11, SSA will host a special Speaker Series event: "Technology for Seniors." The session is taking place at Beatley Central Library, 5005 Duke St. from 9:30 a.m. – noon with speakers from AARP, Alexandria Library, Low-Vision Learning Center and Adult Companion Care. The Speaker Series will start up again next fall on Oct. 18 with "Senior Law Day."
To register for the Annual Luncheon or the Speaker Series, and find out more about the Friendly Visitor and Animeals Programs go to www.seniorservicesalex.org or call 703-836 4414 ext. 10.
Mary Lee Anderson is the Executive Director of Senior Services of Alexandria (SSA)