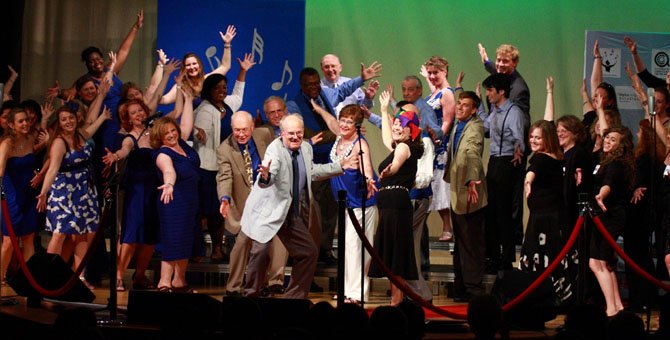 The year was 1975, when gas was $.57 a gallon, the top selling car was the Oldsmobile Cutlass and The Captain and Tennille's "Love Will Keep Us Together" topped the Billboard charts. It was also the year that 16 Alexandria residents got together to form the group known today as The Alexandria Singers.
Over the decades, the group has grown to include 60 men and women of all ages and backgrounds. With their unique show-style combination of music and choreography — think "Glee" without the teenage angst, they have entertained audiences from the Kennedy Center, Verizon Center, DAR Constitution Hall and the White House. On June 20 and 21, they return home to celebrate the great American road trip in their annual spring concert at the First Baptist Church of Alexandria.
Director Bill Colosimo and choreographer Karen Ready conceptualized the theme "Road Trip" based on the vast array of music that could be incorporated into one of their trademark, toe-tapping performances. Songs and styles range from Disney classics, to upbeat 60s, jazz and rock & roll as a slate of choreographed numbers weave together musical selections based on the "road trip" theme.
Known over the years for their commitment to the Alexandria community through performances at local shopping malls, senior centers and community shelters, the group will be making a road trip of their own next summer as they travel to Salzburg, Austria, to celebrate the 50th anniversary of "The Sound of Music."
Slated for June of 2015, the trip will also serve to commemorate the organization's 40th anniversary. As part of the celebration, The Alexandria Singers will join with choruses from around the world in singing songs from the "The Sound of Music" in the settings where the musical numbers in the Academy Award-winning movie were filmed.
So prepare to get your kicks on Route 66 and destinations unknown as The Alexandria Singers present a musical road trip June 20 (7:30 p.m.) and 21 (2:30 and 7:30 p.m.) at the First Baptist Church of Alexandria, 2932 King St. Tickets are $25 for reserved seats, $20 general admission, $15 discount admission (Group/Student/Senior/Military), $5 children under 6. Tickets may be purchased online at http://shop.alexandriasingers.com. Visit www.AlexandriaSingers.com or www.facebook.com/AlexandriaSingers for more.