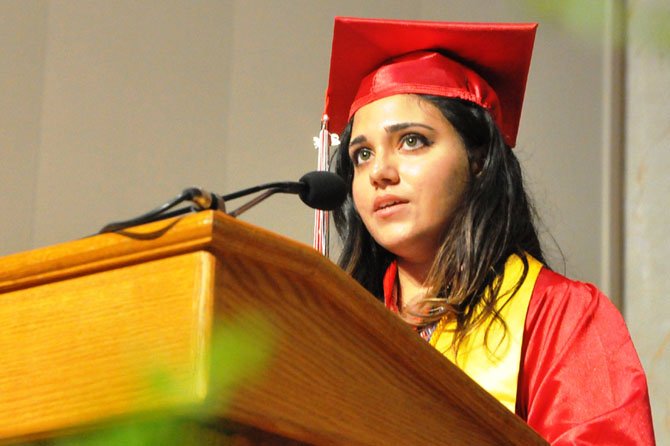 The world is run by geeks.
At least according to Dr. Dino Patti Dajalal, former Indonesian Ambassador to the U.S., during his graduation speech to McLean High School's class of 2014 at Constitution Hall June 17.
Dajalal, a self-proclaimed geek, said his studious nature is what got him into his dream job.
"My advice to you, McLean class of 2014: develop your geek power," he said.
During the afternoon ceremony, nearly 500 students received their diplomas and recognition for committing to the military, placing in an honor society and receiving the President's Award for Educational Excellence.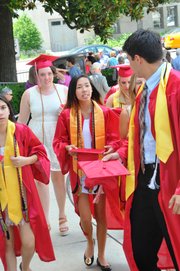 During Dajalal's speech about geekiness and life truths, he described the difference between clever and wise as the difference between achievement and fulfillment.
This was one of three discoveries he said he found in his life full of expanding outward.
The other two were to never let anyone take you away from your parents and to be at peace with yourself.
"As you try to conquer the world, the most important space to conquer is inside," he said.
A speech about the geek life made way for one about creating melodies with memories.
"Graduating from McLean leaves us with an impression of finality, but we are not finished," said student Kimia Zadegan.
Zadegan is a member of the English Honor Society, French Honor Society, National Honor Society, Tri-M Music Society and is a recipient of the President's Award for Educational Excellence.
The memories she referred to those made in the halls and classrooms of McLean High - not just the big memories like the first day of school or prom. Rather than wish they were still in high school, she hoped the students would use the memories to make their lives better in college and beyond.
"Our little memories are the ones that make our lives that much more satisfying," she said.
However, she said the melodies they are creating with their lives are not finished yet.
"It's our class's age to take our bands on the road and give the concert of our lives," she said.