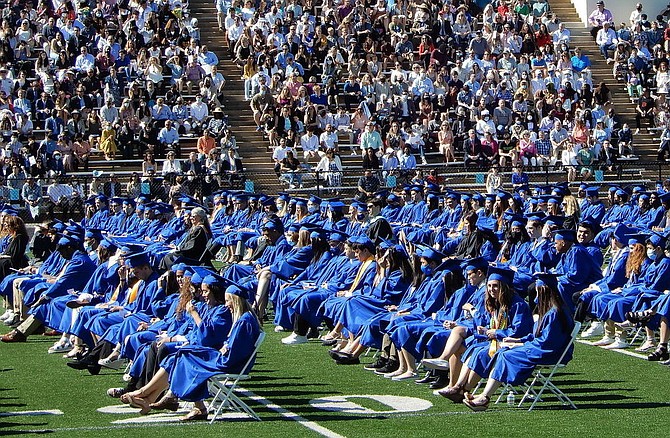 Because of the pandemic, the music was recorded, and the ceremony was held on the football field instead of inside the field house. But Fairfax High's graduation, last Tuesday, June 1, was just as heartfelt and meaningful as ever.
More than 500 students received their diplomas and, of that number, 126 were honor grads who earned a 4.0 or higher GPA. And at the outset, Principal Erin Lenart recognized them, as well as the grads who'll be going into a military academy or directly into a branch of the armed forces.
As it turned out, it was also her "graduation" from the school, because she's leaving, too. As of July 1, she'll become the principal of a high school in Lake Forest, Ill. But last week's ceremony was all about the Fairfax High Class of 2021.
Lenart began her remarks to the students with the words, "OK, seriously" – which she acknowledged was an unusual way to start a speech. But it was actually fitting, she said, because within those words can be found strength, humanity and humility.
"You don't always have to be perfect," she explained. "You can just choose to be OK at a lot of things, as long as you're always continuing to grow – and find and live your passion and purpose. Just find the strength to get over the obstacles and do it."
LENART said the word, "seriously," means the grads have the ability to rise about whatever challenges they may face. "You know your value," she told them. "And may the hard lessons you learned about yourself to get you to today serve as a reminder that you are enough."
She then said the following advice is her "final lesson' to teach them, but "life will assign the grade" they receive. "Choose love always – plus compassion, empathy and fairness," said Lenart. "When you see unfairness, find the courage to offer a smile in a sea of tears. There's a story needing to be heard and valued; listen to it and choose humanity.
"How proud our staff and community are of all of you," she continued. "Class of 2021, you get applause and a standing ovation – [which the attendees gave them]. We all love you and know the best is yet to come. Good luck and congratulations."
Senior Class President Alex Robinson then presented the class gift to the school – three podiums, plus the painting of new pawprints (for the Lion mascot), this summer, on the road leading to Fairfax High. Next, 2021 Honor Grad Grace Lane addressed her classmates.
"Real life is filled with problems, and 2020 and '21 were filled with copious challenges – especially COVID-19," she said. "It taught us we couldn't take anything for granted, but needed to enjoy the [special] moments, whenever they came – like fall sports in spring and prom in the hallways."
And, said Lane, "It's these moments we need to hold onto. There was so much more joy at football games and in classrooms for those who were able to go back in person. We enjoyed what we got to do together, and we made memories that we will cherish forever. We learned this year that we're all Fairfax, we're all family and we're all in this together."
FAIRFAX MAYOR David Meyer then presented four, special awards to deserving students. "We in the city of Fairfax have watched you grow into adulthood, and we're invested in your lives," he told the grads. "And as you leave this place, we hope it will never leave you."
Receiving the Most Outstanding Senior award was Jason Dwyer. Describing him as a "top student-athlete" and an "excellent role model," Meyer said Dwyer served both his school and community, was on the student leadership council and was captain of the JV and varsity baseball teams.

Grace Lane was given the Service Award. "She brought infectious enthusiasm to her classes," said Meyer. "She's empathetic and hardworking and was a leader in Fairfax High's Theater Department. And as president of the Fairfax Players, she made everyone in the Theater Department feel valued and like part of a family."

The Faculty Award was presented to Aashray Manchanda. "He's a born leader, an innovator and an entrepreneur," said Meyer. "He revised the Robotics program and team, started a nonprofit and taught an online, after-school, robotics program to 75,000 youth.
He also crowd-sourced funding for over 20,000 PPE for healthcare and other essential workers throughout the country. He was the National Honor Society president and an officer of the Indian Student Assn. And in the fall, he'll be attending the University of California at Berkeley."
Raina Larkin received the Fairfax Award. "She's a great example of what a Fairfax Lion should be – not afraid to use her voice, take risks and speak up for her peers," said Meyer. "She has positivity and grit, served three years in the leadership class and, this year, was SGA president. Also known for her kindness and compassion, she plans to become a nurse."
Then, after the presentation of diplomas, members of the Class of 2021 walked into the sunshine to begin the next chapter of their lives.