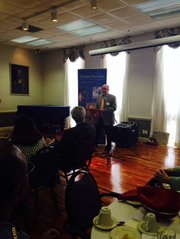 Alexandria — Senior Services of Alexandria gathered with its board, staff, and community supporters to celebrate accomplishments over the past year on behalf of Alexandria's senior community. The Fountains at Washington House graciously sponsored the event. SSA's Board Chair Gregg Murphy opened the luncheon meeting thanking everyone and highlighting SSA's accomplishments:
Delivered meals seven days a week to homebound Meals on Wheels City clients and SSA direct clients. Through the Senior Nutrition Program, SSA increased its delivery of Meals on Wheels to seniors in need

Continued to support matches between community volunteers and isolated seniors through its Friendly Visitor Program

Expanded its information and education activities with a robust monthly speaker series, launching a 30-minute cable TV program, Senior Living in Alexandria, and increasing its Senior Information Corners in public libraries, recreation centers, senior living communities, and House of Worship.

Continued to serve as the city's call center for DOT Paratransit program for the disabled.
This past Spring SSA played a significant advocacy role on behalf of seniors during the city budget debate. With full support of the board of directors, SSA spoke on behalf of our vulnerable senior population and the result was the full restoration of two programs of great significance to seniors — Senior Taxi and a real estate tax relief program.
Special guest speaker John Porter, president and CEO for ACT for Alexandria, spoke about the importance of local nonprofits working together to make a better Alexandria. SSA is proud of its collaboration during the past year. We are collaborating with the Alexandria Library on a Library Materials Outreach as well as with the Animal Welfare League of Alexandria on AniMeals on Wheels. Together we are proving that Alexandria is a great place to be a senior.
Please learn more about our activities, upcoming events and educational programming on our website at seniorservicesalex.org, and on our YouTube channel, Senior Living in Alexandria.
Mary Lee Anderson is the Executive Director of Senior Services of Alexandria.