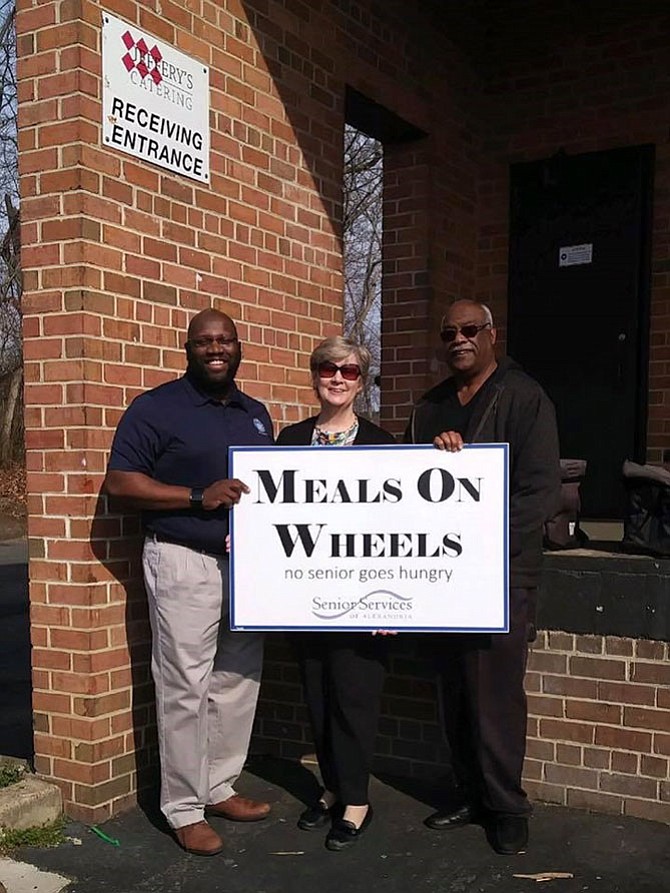 Senior Services of Alexandria, a nonprofit providing services and programs that foster independence and self-sufficiency, helps enable seniors within the City of Alexandria to age with dignity. Its programs include:
Senior Nutrition Program. Meals on Wheels is a life-sustaining program that allows seniors who are unable to leave their homes to shop, or who have difficulty preparing a meal, to have two healthy meals a day delivered 365 days a year, including holidays.

Groceries to Go is a program for seniors who still enjoy preparing their own meals, but find shopping difficult. Groceries are ordered over the phone based on the grocery recipient's personal shopping list. There is no minimum order required and no delivery fee. Volunteers deliver the groceries to the client's home, and, if requested, will put the groceries away.

Friendly Visitor Program provides companionship for isolated seniors. Carefully screened and trained volunteers are individually matched with seniors with whom they visit for at least an hour each week. The program enhances the quality of life of seniors by providing social interaction, mental stimulation and emotional support.

DOT Paratransit program provides transportation for disabled residents of Alexandria who find it difficult to use public transportation. DOT's one-way fare for trips up to five miles outside city limits is $3. Trips over five miles outside the city are $5.

Animeals on Wheels is a program that provides pet food to pets of low-income seniors. SSA works with the Animal Welfare League of Alexandria, which provides the pet food, to deliver pet food once a month to seniors.

Information and Education program provides information on topics relevant to seniors. It includes a monthly speaker series, each with a different topic. SSA collaborates with city agencies and other nonprofits on the various topics presented. SSA also stocks 16 Senior Information Corners around town in public libraries, recreation centers, houses of workshop and senior communities with literature about programs and services available to seniors. SSA also produces a monthly cable TV show, Senior Living in Alexandria, which highlights and expands on the information shared at the speaker series. The program airs on Alexandria Comcast Channel 70 every Sunday at 2 p.m. It is also available on YouTube.

Senior Academy is a four-week course for seniors residing in the City of Alexandria. It is designed to provide seniors with an opportunity to gain exposure to the city's various government functions, learn about other organizations for seniors and help seniors get involved.

Silver Service Card is a program that SSA, the City of Alexandria and At Home in Alexandria started to connect seniors with local businesses. The Silver Services Card, when presented at participating locations, offers discounts to Alexandria seniors.
To find out more about SSA's programs and its volunteer opportunities, visit www.seniorservicesalex.org or call 703-836-4414.