Town Council Member Grace Han Wolf was appointed to the Virginia Commission for the Arts.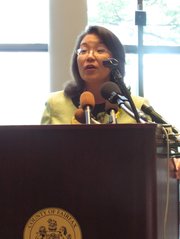 A press release from Gov. Terry McAuliffe's office announcing administrative appointments was issued Monday.
"I'm pretty excited," said Wolf. "It's a great organization. I'm pleased to be joining this group of art supporters."
Wolf found out in an email last week, she said.
She will help oversee art spending within the state as well as make sure money is set aside in the General Assembly for the arts, among other duties.
Wolf is a past president of the Herndon Council of the Arts and was a board member for about 14 years.
"Grace's business and public service experience, coupled with her years serving on the Herndon Council for the Arts Board of Directors make her a great addition to the Virginia Commission for the Arts," said Mayor Lisa Merkel in an email. "I am proud of her work and know she will represent Herndon well."
To find out more about the state Commission for the Arts, visit http://www.arts.virginia.gov.