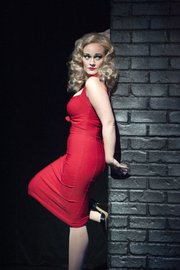 Signature Theater is closing out its 2013-14 season with the world premiere of the screwball musical comedy, "Cloak and Dagger," on stage through July 6. Directed by Eric Schaeffer ("Broadway's Follies," "Million Dollar Quartet"), the show is a spoof on 1940s Hollywood film noir.
"Cloak and Dagger" stars third-rate detective Nick Cutter (the talented Doug Carpenter) who is down on his luck when a beautiful blonde bombshell (Erin Driscoll who plays femme fatale Helena Troy) tosses a case into his lap. The clever and oblivious Nick spends the next 90 minutes racing through every New York City neighborhood (Chinatown, the Bowery, Little Italy, and even a burlesque house) to solve the riddle of the Golden Venus statue. The show is a spoof of Hollywood mysteries with tons of laughs thrown in between.
Written by Ed Dixon, who also did the music and lyrics, "Cloak and Dagger" casts four actors in nearly 20 madcap roles. Dixon himself plays a multitude of male and female characters as does Helen Hayes Award winner Christopher Bloch ("Character Man Two," Signature's "Chess," and "Les Misérables").
"I wanted it to be a soufflé — lighter-than-air entertainment," said Dixon, who was inspired by the 1941 film noir masterpiece, "The Maltese Falcon," starring Humphrey Bogart. He started writing the play more than two years ago while starring in "Mary Poppins" on Broadway. He had seen "39 Steps" and thought the concept was a wonderful idea for a four-person musical.
Dixon called on his old friend, Signature Theater's Artistic Director Eric Schaeffer, and presented the idea to him. So last summer they did a one-week reading and the process went very well. Then they decided to produce the show, which has been a joyous experience for Dixon. He calls the play "a light summer fare — something people could enjoy tremendously for an hour and a half."
As an actor, the immediate challenge for Dixon playing a number of characters on stage was that he was constantly changing clothes and genders. "I also wrote it, so it's a challenge on every front. And since changing clothes is the thing I like the least of anything in show business, that's really challenging," he said.
"But it's also challenging to always be listening to the play with one part of my brain and creating my performance with another," he added.
Above all, he said that he wanted to write a really funny musical. "And I would like audiences to go home with sore ribs from laughing," he said.
For Carpenter, the challenge was having to create so much of the story — he practically carries the entire show himself. "Without much in the way of sets, it's my job as the narrator to really drive the story and create each location and give them life," said Carpenter, who studied voice at UNLV and UCLA.
He added, "Mostly I'm hoping people will come, have a drink, and laugh at our ridiculous little show. This is pure entertainment, and it can be very fun if you're looking for 90 minutes of escape."
For Erin Driscoll, who recently stole the show in Signature's "The Threepenny Opera," the challenge was playing the slinky femme fatale in a tight, practically painted-on red dress (at only 5-feet-1-inch tall). "So it has been a little challenging to find my inner vixen," she said.
Driscoll said, "I hope the audience has a great time watching this musical. It is fun, witty, fast-paced and hysterical. I hope they hop on the ride and spend the 90 minutes laughing, smiling and trying to figure out "whodunit!"
The creative team behind "Cloak and Dagger" includes orchestrations by Jordan Ross Weinhold; musical direction by Jenny Cartney; scenic design by Daniel Conway; costume design by Kathleen Geldard; lighting design by Colin K. Bills; sound design by Lane Elms; and Production Stage Manager Julie Meyer.
Performances run Tuesday through Sunday evenings, with matinees on Saturday and Sunday. Tickets start at $40. Tickets are available in person at the Signature Box Office at 4200 Campbell Avenue in Shirlington, by calling Ticketmaster at 703-573-SEAT and online at www.signature-theatre.org.