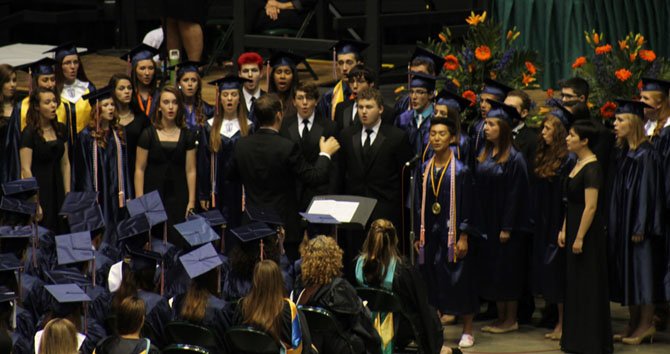 This year's graduating class from West Springfield High School is one of the most high-achieving classes in the school's history.
That's what Mark Greenfelder, principal of West Springfield High School and graduate of the school's class of 1987, said at the Class of 2014's graduation ceremony on June 23 at the Patriot Center.
"The Class of 2014 is the highest achieving class I've had the privilege to be associated with," he said.
The Class of 2014 at West Springfield has a collective grade point average of 3.3. Additionally, there are 186 students with an average of 3.7 and higher, and 102 honor graduates with an average of 4.0 or higher. They've been awarded 6.9 million dollars in scholarships and have three national merit finalists, Greenfelder said.
Greenfelder told the graduates to pursue their passion, but to remember that pursuing a passion can be difficult at times.
"Find that intersection of what you love to do and what you're naturally good at, and be relentless in pursing it," Greenfelder said.
Keynote speaker Duke Baird, a math teacher at West Springfield and a former officer in the Marine Corps, encouraged the students to learn from their failures, which will propel them to greatness.
"Most of you will figure out how to handle success, but it is during life's shortfalls when you must be your strongest. You must be prepared to deal with failure," he said. "Failure is often looked at as a negative thing, especially in the world of education. I completely disagree."
He also encouraged the students to stop spending so much time on their smart phones.

"Find the closest body of water and throw your smart phone in it," he said. "Life will pass you by if your head is always down looking at a screen."
Nikola Marcich delivered the honor graduate address, and thanked the teachers and parents who have supported the Class of 2014 in their journey. He spoke about each year's story and the story they have yet to live.
"Although we complain about all these books we've been assigned, they all have important stories," he said.