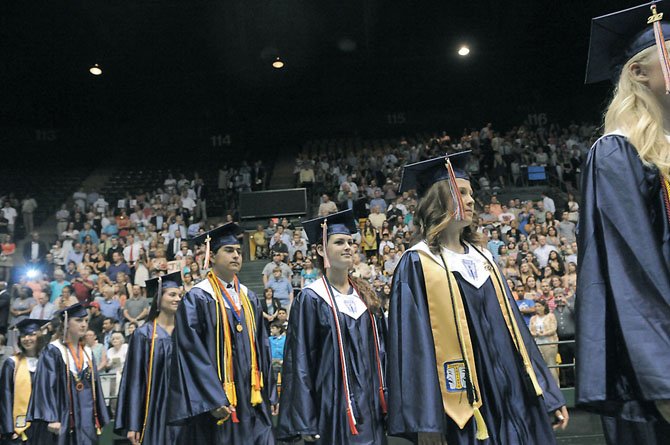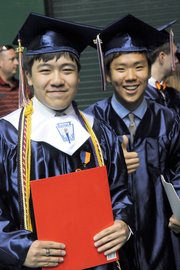 West Springfield High School Principal Mark Greenfelder launched the school's 45th commencement ceremony at the Patriot Center with an inspiring message: "Spartans should always reach for the stars."
Greenfelder said fellow Spartan, retired Army Colonel Patrick G. Forrester, was a perfect example of someone who "reached for the stars." A 1975 graduate of WSHS and a NASA astronaut, Forrester "shows that anything is possible," Greenfelder said.


HONOR GRADUATE Jacob Martin introduced Forrester, a fellow Eagle Scout, citing his many accomplishments as an astronaut and pilot who "logged more than 950 hours in space."
Forrester graduated from West Point in June 1979 and entered the U.S. Army Aviation School the same year. After completing a Master of Science degree at the University of Virginia in 1989, he was assigned as a flight test engineer at Edwards Air Force Base in California. In 1992, he graduated from the U.S. Naval Test Pilot School and was designated an experimental test pilot.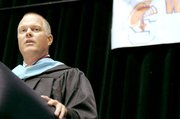 "This is joyous reunion for me. It brings back great memories," Forrester told the class of seniors who filled the Patriot Center on Tuesday, June 19.
Forrester delivered a thoughtful message about character, emphasizing that "habit is the daily battleground of character." Instead of sharing flight stories, he shared philosophy, and challenged the graduating seniors to learn to embrace the uncomfortable "wilderness" in life.
"Take a deep breath and lean into it," Forrester said. "The wilderness comes when we leave something familiar and haven't grasped what's new. It's Linus when his blanket is in the dryer. Living in the place between the trapezes is where you will learn the most about yourself."
The two-hour ceremony began with a moving rendition of "I Believe I Can Fly" performed by the award-winning WSHS Madrigals.
Greenfelder, who took over as principal earlier this year after Paul Wardinski retired, said this year's graduates have been recognized at the state and national level for successes in academics, fine arts and athletics.
He noted that West Springfield High School's Class of 2012 includes 180 Spartan Scholars, and 96 honor graduates; 94 percent of the class plans to attend a two or four-year college, and graduates accepted more than $5 million in scholarship offers.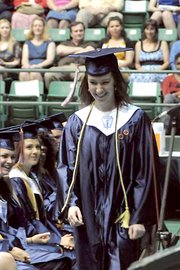 "But what impresses me the most is not numbers, but the way you conduct yourself with pride and dignity," Greenfelder said. "You've done an impressive job representing West Springfield High School."
Springfield Supervisor Pat Herrity, who gave the keynote address last year, said "it was my pleasure an honor to be there to recognize the many accomplishments of the Class of 2012."


MARTIN INJECTED HUMOR into his address, ending his remarks with a quote from comedian Ellen DeGeneres: "Follow your passion. Stay true to yourself. Never follow someone else's path unless you're in the woods and you're lost and you see a path. By all means, you should follow that."
The ceremony ended when the Class of 2012 Senior Class Officers – Cham Sham, Edward Bae, Isabelle White and Nathaniel Kelley - took the podium and together told the graduates to "turn your tassels!"