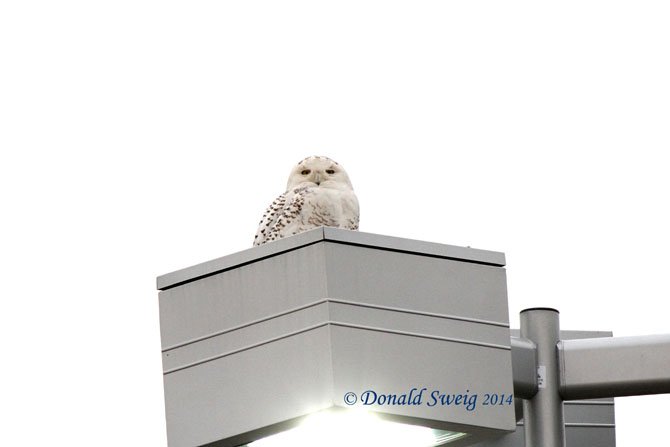 "Snowy Owl at Springfield Mall," the subject line read on the Virginia Society of Ornithology's birding hotline, on Feb. 4.
The winter of 2013-2014 had seen an unprecedented irruption of Arctic Snowy Owls into the mid-Atlantic states. Dozens, or hundreds were being seen from Maine to the Carolinas, and even one in Florida. Mostly they showed up on Atlantic barrier islands, or at airports (two were seen at Washington National Airport) which look like their native tundra.
But one at the Springfield Mall was a real surprise.
That first afternoon there were 15 to 20 eager bird enthusiasts at the Mall looking for the bird. Mostly, the birders were cold and a bit frustrated that they couldn't find the bird when suddenly, "There it is!" The owl flew in from the rooftop across the street and landed on a parking-lot light beside the Target store. There was much "ooing," and "ahhing" from the bird folk; lots of looking through fancy birding scopes, and lots of photography. Eventually, about 5:30, or so, the owl flew off to another rooftop.

Over the next week or two the owl was seen again on the lights at Target, and on the roof at JCPenney, as well as various roofs across the street. Numerous birders, and just plain folks from near and far, came and saw the owl every evening. It was a once-in-a- lifetime opportunity for most.
The consensus seemed to be that it was there because commercial areas tend to have an ample supply of rodents (like rats), which are a fine meal for an owl.
Eventually, one afternoon, the owl could not be found, and it has not been seen again. Presumably, it had left to fly north to its Arctic breeding grounds. But, it surprised and delighted many while it was at the Springfield Mall.