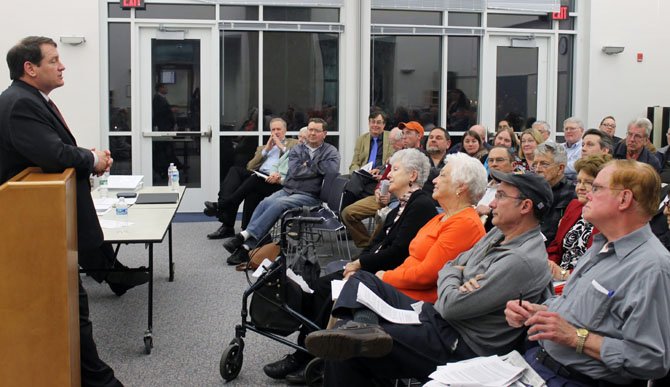 At this year's Springfield Budget Town Hall, County Executive Ed Long said he is much more optimistic about this year's budget than the past.
"Whatever we do with the budget, it has to be sustainable," Long said. "There is no need to panic because of the challenges that are out there."
Some community members, however, continued to voice their concerns surrounding real estate tax, school funding, and government employees' pay.
Springfield District Supervisor Pat Herrity, who hosted the meeting, said that the Board of Supervisor's advertised tax rate of $1.105, which he voted against, is a 15.5 percent tax increase over the last three years.
"We've got to be careful we don't tax people out of the county," Herrity said.
Herrity shared the story of his aunt, a long-time county resident, who he said is moving out of Fairfax County due to high tax burdens.
"She is one of the people being taxed out of Fairfax County," Herrity said.
Sonny Wiehe, a Springfield resident who attended the budget meeting, agreed that the real estate tax burden is too high in Fairfax County.
"The real estate tax burden should never be above 50 percent," Wiehe said.
A couple attendees criticized the recent Lorton Arts Foundation bailout, in which Fairfax County assumed $30 million in debt. Supervisor Herrity was the only supervisor who voted against the bailout.
"As far as Lorton goes, we've got a long way to go," Herrity said. "We need to fill that area with density."
Herrity said Fairfax County is looking at monetizing the land surrounding the arts center.
Herrity also addressed the Fairfax County Public Schools budget, which requested a 5.7 percent increase in the transfer from the county.
"The schools face a lot of challenges," Herrity said. "[Superintendent Garza] made some tough cuts, which I haven't seen done in a while."
Although the Fairfax County budget has allotted a 2 percent increase in the transfer to schools, short of the requested 5.7 percent, Herrity said that the money is available without the 5.7 percent increase.
The $34 million funding increase from the Board of Supervisors, the $30 million in funding from the state, which the school system did not include in their budget, a $25 million resulting in a 1.25 increase in the lapse rate, and $13 million resulting from eliminating raises for administrators who received an increase in pay last year is enough to cover the school system's budget, Herrity said.
Public Hearings on the FY 2015 budget will be held April 8-10 at the Fairfax County Government Center.