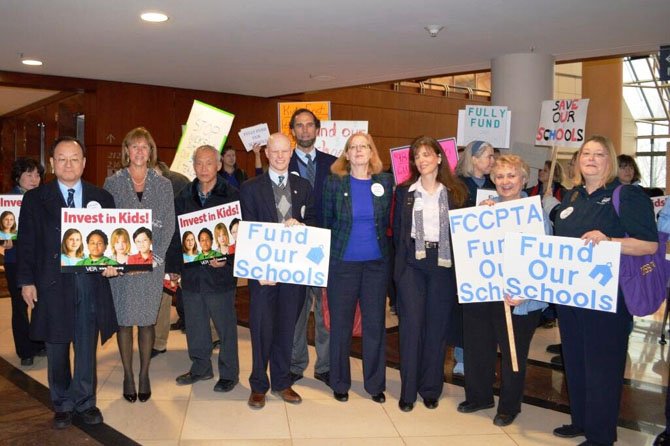 Fairfax County Executive Edward Long, Jr. unveiled a $7 billion budget proposal Tuesday that reflects his "cautious and deliberative approach to budgeting," a result, Long said, of continuing uncertainty over federal spending and sluggish commercial tax revenues.
While Long's budget does not include an increase in the real estate tax rate from FY 2014, steady gains in the county's residential housing market mean the average homeowner will see a $330 increase in their tax bill, or a 6.5 percent increase over last year's bill.
"The one area that is experiencing an upward tick is the assessed value of residential property in the county," said Board of Supervisors Chairman Sharon Bulova (D-At- Large), which will lead to the increase in homeowner's property taxes even if the tax rate remains steady, as proposed by Long.
Supervisor Pat Herrity (R-Springfield) said "there's a lot of work to be done" before the final budget is approved in April, and the county needs to "eliminate barriers to the growth of our commercial tax base."
"While spending increased by 3 percent, the cost to our taxpayers is increasing over 6.5 percent due primarily to the reduction in our commercial tax base," Herrity said. "I am most concerned that this increase will hurt those in townhomes, condos and apartments the hardest — the citizens that can least afford it."
"This will be a very challenging budget," Bulova said, citing disappointing projected revenues from business taxes.
Among those disappointed with the proposed budget is Fairfax County Public Schools Superintendent Karen Garza, who last month requested supervisors send $2.5 billion to the schools, an increase of 5.7 percent in annual taxpayer funding and $98 million more than the schools requested last year.
SUPERVISORS have said they were willing to increase their transfer by only 2 percent, which accounts for 52.1 percent of the proposed county budget expenditures.
Garza's request is about $64 million more than Long's budget recommendation of $1.93 billion, a 2.07 percent increase (or $39 million) over the current fiscal year.
Garza's budget proposal would have increased school funding, but also called for $96 million in cuts, including classroom testing fees for high school students, large class sizes and staffing cuts.
Long's proposal also includes $72.6 million in additional support for school services including Head Start, school health, resource officers and crossing guards, after-school programming, field maintenance and recreational programs, among others.
To show support for Fairfax County schools and teachers, the Alliance for Fairfax Public Schools held a "Fund Our Schools" rally at the Fairfax County Government Center before Long's budget announcement. The Alliance is a partnership of parents, students, and civic organizations including the Fairfax Education Association, Fairfax County Council of PTAs, and Fairfax County Federation of Teachers.
"Our schools are bursting at the seams, talented teachers are leaving, and already large class sizes could get even bigger. The supervisors must make our schools the priority," the FCCPTA said in an online petition addressed to the Board of Supervisors.
"It's absolutely stunning that supervisors put forth a budget that shortchanges students," said Kevin Hickerson, an FCPS teacher and parent-advocate who supported the rally. "Two percent is not enough."
To close that gap and fund other priorities, Bulova said she will consider advertising an increase in property tax rates, which would add about $150 to the average homeowner's tax bill, on top of the $330 jump resulting from higher assessed values this year.
Bulova said the board will set the advertised real estate tax rate on March 4; the advertised rate represents the maximum potential tax rate for FY2015.
"Through the budget process, the board may adopt a rate lower than the advertised rate, but cannot adopt a higher rate," Bulova said.
According to the County Executive's proposed budget, one penny of the tax rate is equal to roughly $21.9 million in the general fund and $50 for the average Fairfax County residential tax bill.
"As the county continues to face fiscal challenges, we must persist in our cautious and deliberative approach to budgeting, only funding items that are sustainable," Long said Tuesday, adding that almost all of the budget increase in his proposal will be earmarked for capital investment and employee compensation.
"These are two critical elements of our continued success," Long said.
But members of the County's Government Employees Union — SEUI Virginia 512 — called Long's proposed budget disappointing.

"We are disappointed that the county executive's proposed budget fails to meet the needs of our community, and we call on the Board of Supervisors to do more to invest in our future success," SEIU Virginia 512 Secretary-Treasurer Karen Conchar said.
"The county executive's proposed budget falls short in protecting the county's jobs and services," said Joe Wilhelm, president of SEIU Virginia 512.
Wilhelm said Fairfax County employees have fallen behind peers in neighboring jurisdictions when it comes to pay, and Long's budget proposal fails to help employees catch up.
"As a result, the best librarians, social workers, engineers and more will continue to leave Fairfax County to serve in other jurisdictions, hurting the services residents depend on," Wilhelm said.
OTHER HIGHLIGHTS of Long's budget proposal include:
A 1.29 percent compensation increase for county employees based on a Market Rate Adjustment, effective July 1, 2014, as well as an increase in funding of health insurance and other benefits.
Increase in capital construction funding, including capital renewal (planned replacement of aging roofs, electrical systems, HVAC systems, plumbing systems, etc. in county facilities), compliance with the Americans With Disabilities Act (ADA) and athletic field maintenance.
Increase in public safety funding, including 9-1-1 support and requirements, and full year funding of operations at the Wolftrap Fire Station.
Increase in human services funding including behavioral health services for youth, school readiness for preschoolers and domestic violence services.
Public hearings on the proposed FY 2015 Budget are held in the Government Center Board Auditorium:
April 8, 6 p.m.
April 9, 3 p.m.
April 10, 3 p.m.
Those wishing to speak at a public hearing can sign up online to place their name on the speakers list or contact the Office of the Clerk to the Board at 703-324-3151, TTY 703-324-3903. The public hearings will be held in the Board Auditorium, Fairfax County Government Center and will be shown live on Fairfax County Government Channel 16.
Residents can also provide feedback and comments on the proposed budget through mid-April at dmbinfo@fairfaxcounty.gov .