Where and When
"Deeds Not Words" at W-3 Theatre, Workhouse Arts Center, 9601 Ox Road, Lorton. Performance: Sunday, March 23 at 2 p.m. Tickets $5 for children, $10 for adults. Visit: www.workhousearts.org. Note: For audience 12 and over. Note: "Deeds Not Words" is part of the national SWAN Day (Support Women Artists Now) events in the Northern Virginia area. More information on SWAN Day at: www.georgetowntheatre.org and www.SwanDay.org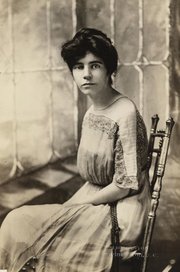 "When you put your hand to the plow, you can't put it down until you get to the end of the row." American Suffragette and life-long crusader for Women's voting rights Alice Paul (1885-1977) used this phrase as her watch words. It was a metaphor for never giving up.
Those words are the inspiration for a new play about Paul to be performed at the Workhouse. The play, written by Northern Virginia playwright Margie O. Tompros, will chronicle Paul's journey as she marched, picketed and was imprisoned for her belief that women deserved the right to vote. The Workhouse has a role in the play.
Tampros indicated that it is fitting that her new play, "Deeds Not Words," have a stage reading premiere at the Workhouse since so many Suggragists were imprisoned at the facility in 1917. The play is sponsored by the Workhouse Museum and History Committee of the Workhouse Arts Foundation.
The play will have five actors in multiple roles, along with a panorama of vintage photographs portraying the actual individuals who worked to bring the vote to women in the early 20th century. The production will be directed by Catherine Flye who is a multiple Helen Hayes nominee and award recipient.
"The message of her play is important for all of us to understand, for the sacrifices made in the past by those brave and passionate women, enable us to live in an equal and free society today," said Flye.
In a recent interview, Tompros described eloquently about her interest in Alice Paul and the Suffragettes. She spoke about the 1917 demonstrations for the right to vote in front of the White House and how the women were sentenced for their actions. Over 70 were imprisoned at the Women's Workhouse at Lorton. Some went on hunger strikes and were forced fed. Alice Paul was taken to the psychiatric facility at St. Elizabeth's in DC.
"Deeds Not Words" is sponsored by Workhouse Museum and History Committee. Laura McKie, Committee Chair, provided history of the Museum and the work of Irma Clifton a founding member of the Turning Point Suffragist Memorial Committee and 2013 Fairfax County Volunteer Service awardee.
Trompos hopes her one-hour play will "inspire school-age students to want to learn and know more about Paul, the history of the times, and about the Workhouse. What happened here is just so important to know and remember. "