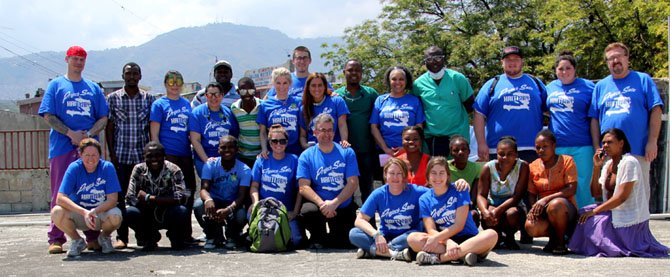 It has been nearly four years since an earthquake killed hundreds of thousands in Haiti. Much aid has been given to Haiti, yet the country still struggles with security and health care issues. Pastor Randy Beeman recently led a group of 16 people from the Antioch Christian Church, 1860 Beulah Road in Vienna on the latest mission trip to Delmas, Haiti, the largest suburb of Port-au-Prince. Robert Morabito, a dentist in Falls Church, his staff, and family, took more than $10,000 worth of supplies and toothbrushes. Their information can be found at www.morabitodds.com.
Pastor Beeman says the primary goal of the trip was to witness, provide good works, as well as spread the good news about how much God loves the children and families of the poorest nation in the western hemisphere by providing much needed medical screenings, dental care, and eyeglasses. The team supports and hires local Haitian dentists and doctors in an effort to provide stable and sustainable care into the future. Upon their return they will spread the news of the needs of Haitians in an effort to arouse more support, more prayers, and more funding for this nation.
The group first worked at the Delmas Christian Church in Delmas with Pastor Eddy Bazin, a native Haitian educated in the United States. For three days the team of dentists, doctors, hygienists and volunteers from the Antioch church cared for 383 patients at the church in Delmas. With funding from the members of Antioch, they were able to provide medical screenings, eyeglasses, oral hygiene instructions, cleanings, fillings and extractions, and much needed medications and antibiotics. A fourth day of care took place at the Mission Eglise Assemblee Chretienne Unie d'Haiti in Delmas. This church ministers to people close to one of the largest remaining tent cities. The group gave care to 80 children in an orphanage and in a school.
Challenges such as no electricity, no running water and children who had never seen dentists before made the clinics challenging yet rewarding for the team. The team took many supplies for each child from toothpaste, floss and a toothbrush. Each child and adult had a cleaning and necessary dental care such as fillings or extractions.
One of the most difficult things to see were the children whose teeth were decaying and causing infection in the gums which could potentially lead to death. The care provided will help relieve much pain and suffering but more importantly will help preserve the health and gums. Additionally, the team members were able honor their mission motto – "Your Smile is our Goal."
The church hopes to go annually on a dental missions trip and take other dentists, nurses, hygienists and doctors and volunteers who desire to help those in need around the world. This is the third trip the church has taken to Delmas in the last three years. For more information on how to support or attend a future trip, go to www.antiochdoc.org