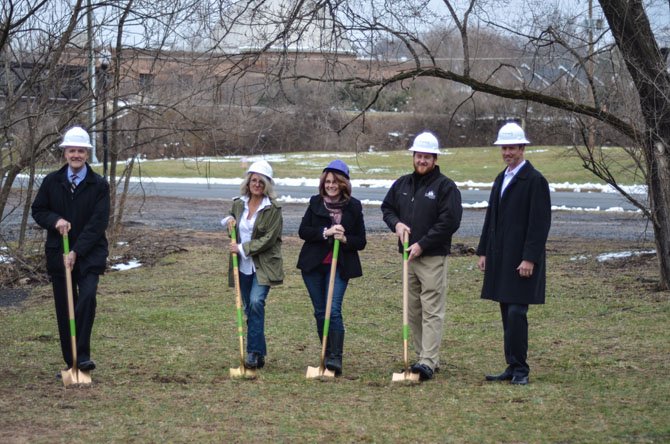 "This is the first new development in downtown Herndon in nearly a decade," said Mayor Lisa Merkel. Merkel participated in the groundbreaking ceremony for the new Vinehaven homes development held March 19. This development is near the W&OD Trail and is located on Vine Street, close to the ArtSpace Herndon, the local community art gallery.
Permission for the development to continue went through in February of 2013. According to a report submitted by Town of Herndon Zoning Administrator Mark R. Holland, there was positive discussion regarding the design and the developer's customized approach to the design.
At the property on 800 and 810 Vine Street, Evergreene Homes will be unveiling the new design of homes called the Classic Cottage series. As the site will be on Vine Street, the name "Vinehaven" was chosen for the housing development. For 17 families, Vinehaven will be home and provide the conveniences of living with access to the region's recreation, shopping, restaurants and arts. The Town of Herndon is in partnership with Beltway Investment Group and Evergreene Homes for this new downtown home community. "The idea behind the community is for people to be able to right size their lives, live in an urban environment and to have access to a lovely garden and gazebo areas," stated Beth Clifford, President at Beltway Investment Group, Inc.
A light rain did not dampen spirits of the developers as they posed for photos at the groundbreaking ceremony. "I am not in charge of the weather," joked Mayor Merkel. The location will be subdivided into 17 lots with a single family detached dwelling and on-site parking.
Homebuyers will enjoy between 2,400 – 3,200 square feet of classic, historic-inspired home design, with up to 4 bedrooms, 2.5 baths, and a 1-car garage. Distinctive features include houses with front porches and rear patios, high-end finishes, built-ins and fenced gardens in the front and rear of each home. The Town of Herndon Planning Commission viewed the development as a "forward thinking" product and as a significant residential endeavor in the downtown Herndon. "This is only the beginning of great things to come in downtown Herndon," stated Mayor Merkel. To learn more about Evergreene Homes, visit MyEvergreeneHome.com.