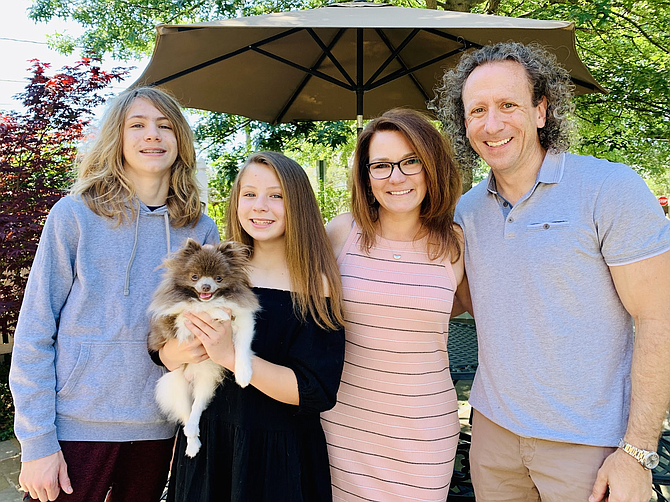 During the pandemic, traditions have given way to new experiences as individuals, businesses and nonprofits morphed, reinventing themselves to succeed. The Herndon Town seal reminds citizens, "In our past lies the hope of our future." One event in the town's past changed the course of Herndon, with far-reaching impact into the next century. On the night of March 22, 1917, a fire consumed much of downtown Herndon. For decades, multiple plans for a new downtown faltered for one reason or another. According to comments made by Mayor Lisa Merkel in 2018 as reported in the Connection, Oct. 26, 2018, "I am running for re-election because I want to see our Downtown Project finally come to life. Downtown has been my focus since being elected in 2010, and we're closer to making it happen than ever before."
On Sept. 1, 2020, Lisa Merkel, Mayor of the Town of Herndon provided her thoughts on development in the downtown and at the Herndon Metro Station. The four-term mayor is stepping down and decided not to run in the November 3 town elections. Her last day of office is Dec. 31.
"A lot is going on in our downtown right now…The Comstock project is still moving forward. I know everybody is anxious for an update and for ground to be broken. I sure am. But it is going forward…Across the street, Aslin Brewery is making great progress on their building with the rooftop deck...Jimmy's has done an entire remodel to the interior of the original building...Of course, all the restaurants have their outdoor dining...Herndon Beer Garden...(is) working with our staff with their plans...All of that will feed into the Downtown Redevelopment when that is complete. So, in the next one to three years, our downtown is really going to come alive with all these new establishments in addition to what's already down there…
The outdoor seating that we approved has really brought a sense of vibrancy, which has been great during COVID. We all love our bike trail, the W&OD and the Green Lizard and all they offer right now in the downtown.
What I think a lot of people love here is the sense of community. We are all so used to going to our local establishments, going to Friday Night Live, walking around our town and seeing friends out and about. We know all the dogs and where the dog bowls are in the neighborhood and when that all came to a screeching halt in March and April, it was really hard.
(As for the Metro area), a couple of properties have been approved. It's going through the process right now. I just saw the site plan review…What people can expect over the next several years is a mixed use development, with retail on the ground floor with amenities and then a mix of office and office and retail above. The Herndon Metro area, which is 38 acres adjacent right at the Metro stop, makes up 1 percent of the town's land area. This is where the higher density development will be. It is the only place that makes sense in Herndon.
(For the South Elden Street plan) the overall idea of that is making it a more pleasant walkable experience because people are going to want to use Elden Street to get toward the Metro."
—Mayor Lisa C. Merkel, Sept. 1, 2020
Follow the Progress
The town website highlights current development projects and provides specifics.
Downtown Herndon Center: Building Design – Site Plan Sheet 6.01
555 Herndon Parkway: Development Plan Sheet 4.0 – Conceptual Design
Fairbrook: Special Exception Conceptual Design
Parkview: Development Plan Conceptual Design
Park Place: Zoning Map Amendment Conceptual Design