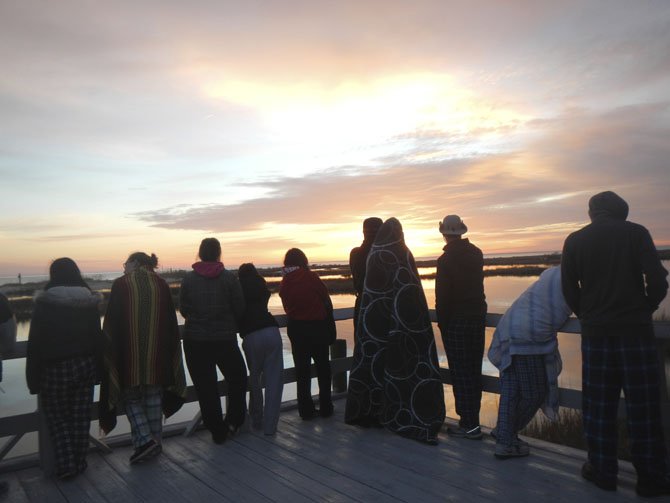 Before beginning their trip to Port Isobel, an island in the Chesapeake Bay, students in Rachel Clausen's International Baccalaureate (IB) environmental systems and societies class at Lee High School had to do something that today is almost unheard of: turn in their cell phones and watches and spend some time without technology.
"They were a little worked up at first. I have a video of their reaction," said Clausen. "But we didn't want them to be trying to get service with their cell phones the entire trip."
At Port Isobel, the students were truly on island time.
"It was hard to get used to. But after a while, it was fine. It's a beautiful island," said junior Mark Kellam.
Clausen was awarded a Good Neighbor Student Achievement Grant in fall 2013, which is meant to be used for addressing problems in the community and participation in service activities.
This grant led to the trip to Port Isobel, a small island east of Tangier Island in the Chesapeake Bay. Clausen and Lee High School principal Abe Jeffers, along with parent chaperones, led 13 of Clausen's environmental systems and societies students to the remote island.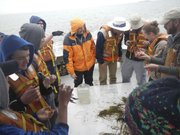 THE GOAL was to teach students more about the Chesapeake Bay and to have them become stewards of the bay.
"We talked a lot about what we can do in our own lives to make the bay a cleaner place," said junior Karina Lizano-Blanco.
Activities on Port Isobel included scraping for oysters, crabbing, water testing, and even some games in the marshes.
"We learned about the marshes on the island. In the marsh, it was really, really muddy, so we had a lot of fun there," said junior Grace Rihl.
The group said they thought it would be somewhat awkward to have their principal on the trip with them, but it ended up being fun.
For the most time he did not feel like our principal. He felt like someone different," Kellam said.
According to Clausen, the principal even joined the students in the mud.
The students said that their trip to Port Isobel taught them more about the importance of the Chesapeake Bay.
"We also went to the neighboring island, and people live there. It showed us that the Chesapeake Bay is a lifeline for people because it's where they get their main employment and resources. It has a lot of aesthetic values for them. It showed us the difference between this island in the middle of the Chesapeake Bay and how we live. It was really eye-opening," Rihl said.
The trip also allowed students to witness the problems that the Chesapeake Bay is facing.
"People have been taking out too many of the crabs and oysters, so the oyster population used to be very large, where you were going along you used to be able to see the oysters, and now you can't see them at all. Even when we were scraping for them, we didn't find very many. Because of that, other populations and species are also having trouble," Rihl said.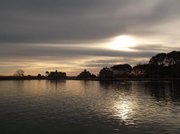 SEVERAL STUDENTS in Clausen's class say the course has expanded their interest in environmental science. Some of the students, including Kellam, plan to major in the subject in college.
"This class has given me more knowledge about environmental science and sort of opened my eyes to that fact that it's something that is really important." Rihl said.
After their IB exam, Clausen's class will bring their knowledge and experiences from Port Isobel to Springfield at the Community Science Day on May 31.
"They are going to use their knowledge of what they did in the bay to help the other kids that didn't get to go in their class, and they are going to be teaching water-related lessons and hands-on demos to elementary and middle-school kids in the area," Clausen said.
The class will also be picking service projects in June as part of their final project for IB environmental systems and societies.
Clausen said the trip was meant to give the students a hands-on activity, as well as to remind them of the Chesapeake Bay's importance.
"In Springfield, we don't always think about the Chesapeake Bay. But it's all connected," Clausen said.