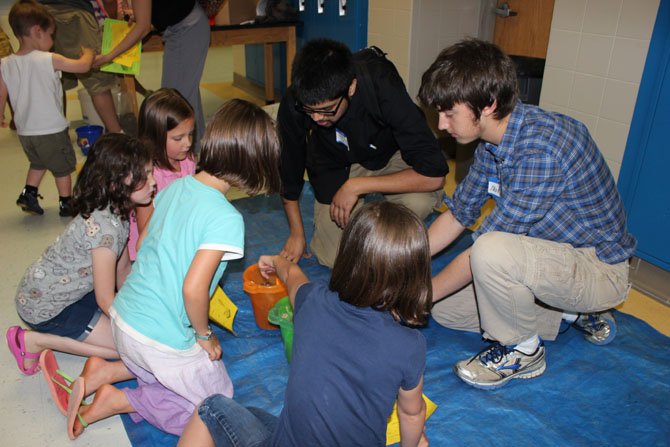 Lee High School students are sharing their love of science with the community every year through their Community Science Day. This year, their May 31 event reached 280 guests, allowing attendees to participate in hands-on science projects and learn about issues such as renewable energy, stem cell research, genetically modified organisms, and other topics affecting the world.
Heather Moore, an IB physics teacher at Lee, founded the science day three years ago as a way to reach out to the community while also helping IB students fulfill certain requirements.
"We want the families to see the school as a central place for learning," Moore said.
The students are prepared and are able to explain their scientific topics for those who attend the event, making it beneficial for the older students, as well as the younger ones.
"Over time, it's evolved into this great hands-on science and investigation day for the community where kids can both do and be part of the science and get their hands dirty," said Rachel Clausen, an IB biology and environmental science teacher.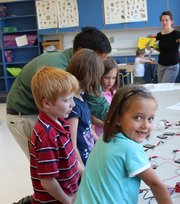 But in addition to participating in some pretty cool experiments, kids and other community members are being pushed to do some controversial thinking, Clausen said.
"A lot of the topics this year were environmental topics," she said. "Teaching 8-year-olds about those cool, tough topics in a hands-on way is something that I don't think happens often. I think the public really enjoyed it this year because we really pushed them to focus on the hands-on activities and focus on the neat topics compared to year's past."
CLAUSEN TEACHES biology and environmental science, so her students all had Chesapeake Bay watershed and wetland projects. Students taking other International Baccalaureate science classes also participated in the event, and all of the topics looked at issues through a world lens. This included environmental issues like hydro-power, nuclear energy, and genetically modified organisms.
Judges at the event consisted of 15 Lee High School graduates, who came back specifically for the event.
"The event is a really cool way to bring in the whole Lee and Springfield community, as well as older community members who were once part of the school," Clausen said.
Clausen and her students collaborated with Northern Virginia Soil and Water Conservation District, an organization that gave them an Enviroscape model to use at the science day.
"It's a really cool large watershed table where the kids can manipulate sponges to represent the wildlife, and they even have fake little cows to show how cows have some pollutants, and how the roads produce run-off from all sorts of pollutants like oil and fertilizer," she said. "The IB kids use this resource provided and the kids that went to their station got to interact with these pretend pollutants and put them on this model."
One of the IB Physics demonstrations was "To Trash or Not to Trash" and had kids pick from a list of materials, such as banana peels, batteries and plastic bags, and determine how these items should be deposed of.
"They had to determine if they would go in the landfill, or would they be recycled or composted. It was a really cool way for these kids to not just hear about it, but to practice doing it," Clausen said.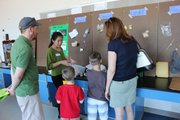 ANOTHER HANDS-ON demonstration had younger students examine two pieces of corn and determine which one was genetically modified.
"Then there was a discussion whether or not genetically modified foods should be available," Moore said.
Kids and even older attendees of the event were encouraged to think about ways they could be more environmentally friendly and help to save the Chesapeake Bay.
"Our goal is for these upper level science students to help bring awareness for science, and for my students especially, to increase environmental stewardship within the Springfield community," Clausen said.
Clausen's students are very excited about taking care of watersheds and wetlands, especially following a recent field trip to Huntley Meadows.
"They want to promote that this is a really great resource in our area, it filters our water, so we have to be careful and take care of it. It was cool to push the local citizens to want to take care of our area," Clausen said.
All of the feedback from the community was positive, Moore said, and the school will continue its community outreach efforts every year.
"Within the science department, students are getting more excited for this opportunity to engage with the community," Moore said. "They feel really proud of this event and see themselves as teachers for the younger kids."