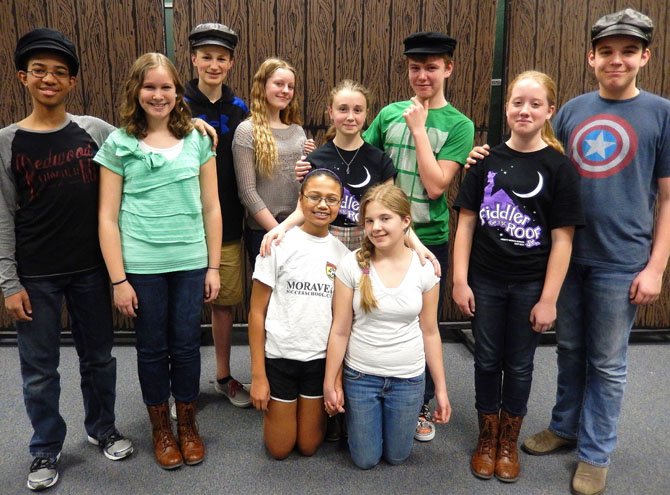 Centreville — Featuring a cast and crew of 45, Liberty Middle School presents "Fiddler on the Roof Jr." Show times are Thursday-Saturday, April 3, 4 and 5, at 7 p.m. Tickets are $5 at the door and during school lunches.
"This is an old-fashioned musical that tells a wonderful story of how tradition can change from one generation to another — and the music is a big part of it," said Director Jody Scott. "There are beautiful harmonies and the soloists have fantastic voices; but it's not just the singing that makes it so special, but the emotion behind it. And all our actors are very talented, whether in leading roles or character parts."
The story takes place in 1905 Russia and centers around a poor, Jewish family in the town of Anatevka. Said Scott: "This is a marvelous show to introduce at middle-school level because it's based on Russian history and Jewish tradition, so the students are also learning from this play."
They've been rehearsing since January, and Scott says the music really sets the mood for each scene. She also praised the two musical directors, Gary Verhagen and Nancy Hayes, who've worked with her on Liberty's musicals since the school opened, 12 years ago.
"They do an outstanding job of guiding the students singing the exquisite music in this show," said Scott. "All the songs will stay in the audience members' heads long after they've left the theater."
Eighth-grader Margot Vanyan plays the mother, Golde. "She's strict and protective of her five daughters and wants them married and well-off," said Margot. "She and her husband, Tevye, argue a lot, but do love each other. She just wants to keep a proper, stable, Kosher family."
Margot says Golde isn't easy to play, but it's fun learning how. "She provides comic relief and gets to yell at her husband," said Margot. Her favorite song is "Sunrise, Sunset" because "it has pretty harmonies and the parents realize how quickly their children have grown up."
She said the audience will enjoy "the four love stories going on at the same time and seeing them from each couple's viewpoint. The show also teaches Jewish history and tradition and how strict they were about marrying within their faith."
Portraying the family patriarch, Tevye, is eighth-grader Jared Renaud. "He's a tough, stern, stubborn man who doesn't normally share his feelings," said Jared. "He channels his emotions so he doesn't have to express them. And he thinks he wears the pants in his family, but his wife really does."
It's difficult having so many lines, he said, but he likes "feeling as if I am the papa, making sure everyone's OK. But I couldn't [do it] without Margot's support as Golde." Jared likes the song, "Do You Love Me?" because it's one of the few times where Tevye is sensitive. "I'm asking Golde if she loves me, after all these years," he said.
Classmate Laura Cantagallo plays the oldest daughter, Tzeitel. "She loves Motel the tailor, but is supposed to marry the person her father arranged for her," said Laura. "But she's a determined person and looks out for both her and her sisters. She's very sweet and understanding."
"It's fun having a lead because I'm in lots of scenes," continued Laura. "And I like playing Tzeitel because she's upbeat and positive and I'm the same way. And even though there's sadness in the show, there's also comedy. It tells a story of a family who stays together, despite their differences."
Seventh-grader Mychal Eichenlaub, who was born in Russia, portrays the constable. "He's a Russian Army officer and is a big, tough guy," said Mychal. "But around the villagers, he's nice because he's gotten to know them. He has orders to carry out, but it's hard for him because he likes the people so much."
Mychal's having fun with his role because, like his character, he's "a big guy, but also nice. So it reminds me of me." He likes the number, "To Life," because "it's one of the happy and joyful songs, and the kick-dance they do is cool. All the songs are really emotional, so they'll make the audience feel what the characters are feeling."
Portraying one of the mamas in the village is eighth-grader Maggie Flynn. She said her character's "determined to keep her family in order. She's fierce, but also friendly and nice. She's so much fun to play because I get to be in charge of everybody in her family. She's also intolerant of nonsense and it makes me feel strong."
Maggie's favorite number is "Anatevka" because "it's an emotional song about their town. And it makes me think how sad I'd be to leave a place where I know everybody — and then be a stranger in a new place." She said the audience will especially love Golde because she's funny while being straitlaced. And, she added, "The cast is really close so we all work well together onstage."