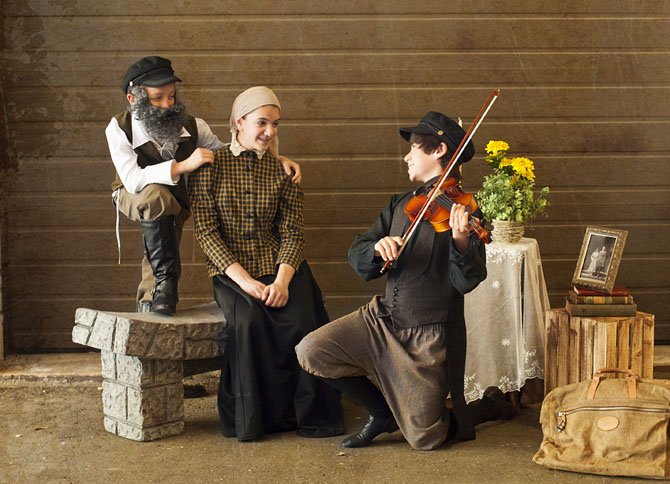 "Fiddler on the Roof" has been capturing the hearts of audiences of all ages since the play first hit Broadway in 1964. The story centers on a poor dairyman, Tevye, father of five daughters, and his attempts to maintain his family and Jewish religious traditions while the world is growing more and more anti-Semitic and social norms are changing. The play takes place in Czarist Russian in 1905 in the small village of Anatevka.
Bravo@Kat, Theater for Young Artists will present the musical "Fiddler on the Roof Jr." on June 8 and 9 at the Randolph Road Theater, 4010 Randolph Road, Silver Spring. The hour-long show is designed to introduce young people to the world of Broadway musical theater, as well as to "Fiddler" — the story of hope and love that teaches the importance of traditions and family in an ever-changing world.
Bravo@Kat is a musical theatre program designed for children in grades 3-8. As a part of the award-winning Kensington Arts Theater, the program focuses on teaching the art of musical theatre. "We make sure that the children are having a blast while they learn to work together as a cohesive and supportive cast," said Executive Producer Laurie Levy Issembert. "While they are learning the tools of the craft — music, lyrics, choreography, staging and blocking — they are also becoming the next generation who will keep the Broadway tradition alive, if not onstage, then as well-versed audience members."
Issembert added, "'Fiddler on the Roof Jr.' retells the ethnic traditions of a specific family, but it has universal appeal. With a cast of 42 young artists featuring students from all over the metropolitan area, award-winning Director/Choreographer Darnell Morris and Music Director Laura Brady have fashioned a show whose message is both challenging and sentimental for the youthful cast."
Ethan Miller of Potomac will play Tevye, Shira Minsk will be Tzeitel and Cole Edelstein will play Motel. Bryan Stopak who plays the Fiddler was cast without the production team being aware that he is actually an accomplished violinist — thus this production includes a "real" Fiddler whose music is artfully interwoven throughout the play.
Besides playing Tevye, Ethan Miller will be playing Wolfie in a staged concert developmental reading of "Signs of Life," an off-Broadway show at American University's Katzen Center Studio Theatre before it heads to Chicago for a September run. He explains how he feels about playing these roles simultaneously: "Playing both Tevye in 'Fiddler on the Roof Jr.' and Wolfie in 'Signs of Life' is very meaningful for me because this was the year of my Bar Mitzvah. Both of these characters live during a period in history when the Jewish people were being persecuted in Europe. Tevye looks at the bright side of everything, no matter how hard his life is. Wolfe is a sneaky kid who will do anything to make his and his family's life easier, no matter how much trouble it gets him into. Both of these characters make me feel that I've completed something incredibly important in my religious education, and I'm proud to preserve the Jewish 'traditions' that both my family and these characters believed in."
Songs such as "If I Were a Rich Man," "Sunrise, Sunset," "Tradition" and "Matchmaker" from "Fiddler" are well-known and beloved by members of the cast and audience alike. "Music plays such an integral role in the 'traditions' of the Jewish people where the weekly Torah service is chanted by a Cantor," said Issembert. "How fitting then that a masterpiece of musical theatre like "Fiddler on the Roof" link the story of the persecution of the Jewish people to the struggles of others worldwide?"
There will be three performances of "Fiddler on the Roof Jr." at 1 p.m., 4 p.m. and 7:30 p.m. on both June 8 and June 9. Tickets are $18 if purchased on-line at www.katonline.org and $20 at the door. The Sunday, June 9 performance at 1 p.m. will be signed (ASL) for the hearing impaired.