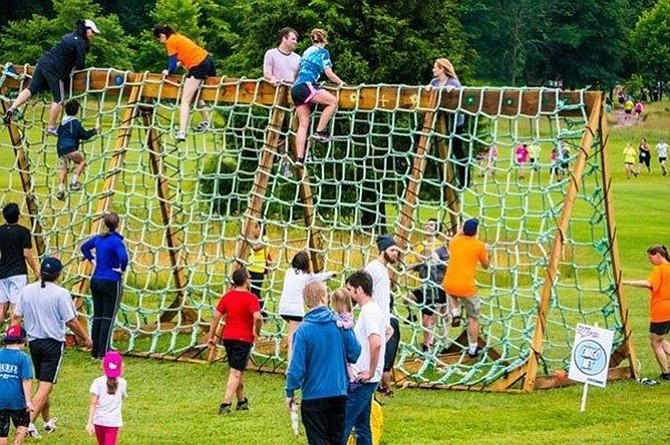 The third annual 5K obstacle Ice Cream Race will be held Saturday, June 25 at Bull Run Regional Park in Centreville. The event will be held every half hour from from 8 a.m. to 12:30 p.m., and includes a waffle cone cargo net, slippery beams, a chocolate syrup water slide, a luscious ladder wall, an icy rope wall, a tricky traverse, a sticky steeple chase and more. Costumed people will line the race route dressed as ice cream cones, cherries and bananas; they will be throwing cherry bomb water balloons and other goodies at the runners.
For added fun, there will be an ice-cream eating competition, costume competitions, a dance party and food trucks. Runners will receive an Ice Cream race T-shirt and ice cream.
"We are very excited for this year's race because we will be bringing back the foam cannon. The foam cannon is an expensive piece of equipment that shoots a stream of foam 20-30 yards in the air," said race founder Max Bawarski, 33, a P.E. teacher at Providence Elementary School in Fairfax. "We also purchased slip N slides for the finish line. Runners will be sliding across the finish line this year which will be exciting and fun to watch." Bawarski also organized several Blood and Guts Runs during Halloween that had 5,000 attendees, and he is planning another Blood and Guts Run scheduled for Oct. 22, 2016.
Bawarski said there are a lot of new and cool vendors too. Just Jump will be showcasing its inflatables at the finish line, Game Truck will bring its massive trailer so participants can play games inside their vehicle, Fit Bus will park its bus at the finish line so participants can play fun activities inside the bus, and there will be ice cream eating competitions, costume, and dance competitions too.
"Our race is designed for people that want to have fun and enjoy a wild running experience with their family and friends," said Bawarski. "The Ice Cream Race 5K is one of the wildest 5K events in the Washington, D.C. metropolitan area."
This is a rain or shine event, and the minimum age to race is 5. There is a rinse station at the end of the race. The entry price ranges from $30-$45. Check out the website at www.theicecreamrace.com to register and find more information.
The venue is at Bull Run Regional Park, Special Events Center, 7700 Bull Run Drive, Centreville, VA 20121. For more details, email support@theicecreamrace.com or call Max Bawarski at 703-593-3173. For discount tickets, email max@theicecreamrace.com.