The third annual Chantilly Day celebration is this Saturday, May 17 and, with two former NASA astronauts coming, it promises to be out of this world.
Stage Entertainment Schedule*
11 a.m. - Opening Ceremonies with Chantilly Academy Air Force Junior ROTC
11:45 a.m. - Wholesome Campus Thunderbirds Competitive Jump Rope Team
Noon - Creative Dance Center
12:45 p.m. - Chantilly High School Jazz Ensemble
1:30 p.m. - Chantilly High School Latin Dance Club
2 p.m. - School of Rock Centreville
2:45 p.m. - Chantilly High School Hip Hop Dance Club
3:15 p.m. - The Hummingbyrds
4:20 p.m. - Retro (Barbershop) Quartet
4:50 p.m. - Chantilly Academy Air Force Junior ROTC
Schedule subject to change.
The festival runs from 11 a.m.-5 p.m., rain or shine, in the Kmart and Babies R Us parking lots in the Sully Place Shopping Center, off Route 50 West in Chantilly. And there'll be fun for the whole family.
Free children's activities will be provided by the Chantilly-Centreville Chamber of and its sponsors and are being coordinated by the Chantilly Youth Association (CYA). The fun includes a rock wall, moonbounces and trackless train, plus several sports-themed activities.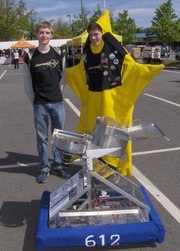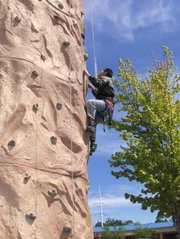 Members of Chantilly High's Hispanic Leadership Club will do face painting, and children's entertainment will be performed on a stage. For animal lovers, a pet adoption will be in the Babies R Us lot, next to the moonbounce. People may adopt pets on the spot and take them home.
A Taste of Chantilly will be in the Kmart lot. Some of the food vendors and their offerings are: Café Rio, tortilla chips and pico de gallo, plus salsa fresca and chile con queso; Chick-fil-A, chicken sandwiches and chocolate-chunk cookies,; Similans Thai Eatery, chicken fried rice, chicken Pad Thai, chicken satay, mango with sticky rice and Thai tea; Hooters, chicken wings and barbecue; and Bungalow Billiards, pulled pork and chicken sliders.
Entertainment includes the Wholesome Campus Thunderbirds Competitive Jump Rope Team and performances by Creative Dance Center, Chantilly High Jazz Ensemble, Chantilly High Latin Dance Club, School of Rock Centreville and the Chantilly High Hip Hop Dance Club.
Also performing will be the Hummingbyrds, an acoustic duo playing alt-country music; the Retro Quartet, singing barbershop-style songs; and the Chantilly Academy's Air Force Junior ROTC.
The Chantilly Academy's Robotics Club will do robotics demonstrations for the crowd, and Academy students will also give a carpentry demonstration. And Fairfax One, the Fairfax County police helicopter, will be on display.
This year's guests of honor are Paul Lockhart and Daniel Tani, who'll participate in the opening ceremonies and later chat with festival attendees and sign autographs. They'll discuss life in space and answer questions at a special tent next to the space-shuttle moonbounce in the Babies R Us lot.
The opening ceremonies and awards presentations will be at 11 a.m. at the stage in the Kmart parking lot. Children's activities, rides and the Taste of Chantilly will begin at 11:15 a.m., and the stage entertainment will start at 11:20 a.m.
The Chantilly Academy's Air Force JROTC Color Guard will present the colors at 11 a.m., followed by the singing of the National Anthem. Local dignitaries and guests will be recognized, and awards will be given to the business, nonprofit, partnership and citizen of the year.
In addition, STEM (science, technology, engineering and math) scholarships will be presented to graduating seniors at Chantilly, Centreville, Mountain View and Westfield high schools and The Chantilly Academy.
More than 90 local businesses will be participating in the Chantilly Day Business Expo. The businesses range from finance to health, home and auto repair, and many will offer giveaways and prizes to people visiting their tables.
This year's Chantilly Day also includes a food drive for Western Fairfax Christian Ministries (WFCM). This Chantilly-based, nonprofit provides food, clothing and emergency financial aid to local families people in need.
But it needs help restocking its food pantry to gear up for summer when the need is greatest.
So Chantilly Day attendees are asked to bring nonperishable food with them to donate to WFCM. For each food item they contribute, they'll receive a raffle ticket for prizes, so those bringing the most items to the table outside the Kmart entrance will have the best chance to win.
Free, offsite parking with shuttle service to and from the event will be offered. Staybridge Suites, at 3860 Centerview Drive, is providing free shuttle buses; service will be available every 15 minutes from 10:30 a.m.-5 p.m.
Visitors are encouraged to use the nearby parking area at 3900 Skyhawk Drive (off Centreville Road). Signs will mark the parking lot. People are also welcome to walk the quarter mile or so from the lot to the event.
Hosting the event is the Chantilly-Centreville Chamber of Commerce (an offshoot of the Dulles Regional Chamber of Commerce), in partnership with the Westfields Business Owners Association. Host sponsor is the shopping-center owner, Beatty Management Co. The Chantilly-Centreville Chamber and its sponsors are also providing the children's activities.