Home on the range, it was a time for tall boots, cowboy hats and "no discouraging words" at the Rising Hope Hoedown which feted the church's scores of volunteers from the Mount Vernon community and surrounding churches, Friday, May 2, at the South County Building.
In fact, the words were most encouraging.
"Your volunteer support has made a difference in the lives of thousands," said Pastor Keary Kincannon in his message. He did most of his "rearin' up" in Oklahoma before moving to a home near Mount Vernon. His cowboy boots and Western regalia are trademarks.
"Our various food-related ministries alone leverage nearly 10,000 hours in volunteer support and almost a half million dollars in donated food," he said.
"You should feel good about giving your time and resources. I know your support is a blessing to all who come in need."
Foremost among the volunteers honored was nonagenarian Ruth Arthur who works two full days weekly in the Rising Hope "Milk & Honey" Food Pantry.
"Every month she drives the food donations from Cameron United Methodist Church to Rising Hope for distribution," said fellow Home Bound ministry volunteer Debbie Bessert.
"Sometimes her trunk and back seat are overflowing with donations and she never complains. These tasks are but a few of her many contributions. … She is unfailingly kind to others."
Serving the homeless and needy, Rising Hope United Methodist Mission Church is located at 8220 Russell Road just off Route 1 between Hybla Valley and Woodlawn. Those who'd like to volunteer or donate are invited to stop by.
For more fun for a good cause, all are invited to the Rising Hope Gala Oct. 3. Purchase tickets at RisingHopeUMC.org.
The Hoedown's barbeque feast was catered gratis by Famous Dave's, another major community volunteer.
Photo Gallery
Volunteers Mosey Up for Hoedown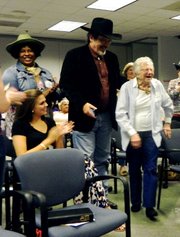 Click Photo for Flash